Recommendations for Treating Grover's Disease
by Fred Brack
Updated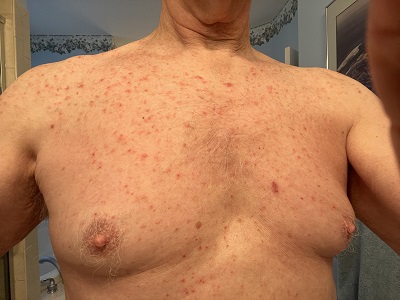 In mid-December 2021, I developed a couple of itchy spots around my armpit. As the itching spread significantly, it took three months to get the proper diagnosis: Grover's disease. I am writing up my personal experience dealing with this problem to help anyone else who may happen to find this page. Disclaimer: I am not a medical authority, and this page is a consolidation of opinions and personal experience with the disease.
Definition
Grover's disease (Transient Acantholytic Dermatosis) has unknown origins, affects (supposedly) mainly older white males (that's me), particularly those with high sun exposure at some point, and in most cases is characterized by extreme itching, primarily on the torso and back. While "they" say it typically lasts 6-12 months, it may last for years, and it may go into remission and come back later. Unfortunately, as one doctor wrote, "Treatment often seems unsatisfactory." Yep.
My Experience
First, I must say that I have never had any allergies, food or otherwise. About 10 days after the itching began around my armpit mid-December 2021, I ate some cooked shiitake mushrooms (which I had done before). The next day, a rash consisting of red stripe marks appeared on my side below the already itchy area. My dermatologist diagnosed this as Shiitake Flagellate Dermatitis. Weird, but OK. She prescribed a steroid cream and said it should go away in two weeks. I found this highly unusual, since I had eaten cooked shiitakes before. Research said less than 2% of people are affected, and typically with uncooked mushrooms. (In my case, I believe that technically this is called a food sensitivity, rather than an allergy. If you want to explore this theme further, read 9 Foods to Avoid With Eczema, although technically Grover's Disease is not Eczema.)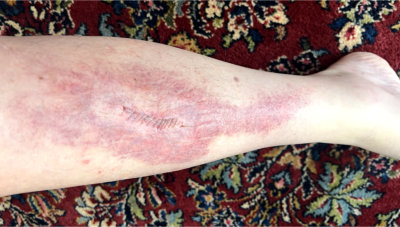 The rash slowly went away, but itching began around the other armpit. Around the same time I was scheduled for an annual skin exam, and surprisingly four basal cell carcinoma spots were found and confirmed by a lab. I had three appointments to remove them surgically. During the exam, a skin sample of my now-expanded rash was taken, and the lab result was "medication allergy." I didn't believe it (I only take one medication) and was later proven right. However, during the process of excisions, it was clear I had a never-before allergic reaction to adhesive tape (photo right)! At this point, I was convinced I had some underlying "disease" which was weakening my ability to fight histamines (?), which was reflected in the two allergic reactions. [As it turns out, I don't think my problem is related to histamines because antihistamines have no effect.]
To make a long story short, I visited my dermatologist again and had a second skin sample taken which came back "consistent with Grover's disease." I felt somewhat "vindicated" because I never felt this was all the result of allergies! By this time, the relatively small amount of red spots had grown to 100 or more all over my back and chest, and the itching was extreme. As I start to write this, a month or two later, the red spots and rash from the waist to neck have receded somewhat, but the itching, particularly at night, remains a terrible problem for me. And BTW, I had another bad response to cremini mushrooms this time; and even switching to generic paper tape (from adhesive tape) has left red, rashy looking petechiae where the tape was (though I will say that switching to Nexcare Gentle Paper Tape solved the problem, though the new 1" dispenser is controversial -- look for an old 3/4" dispenser if possible, and don't buy a generic version of this tape). Recently (2Q22), the backs of my thighs have become very bumpy and itchy, and I'm getting mosquito-like bumps on my inner forearms. At night, my head, neck, and back feel very hot in bed, though the skin is not hot.
The following is based on my research (especially the most useful Facebook Forum Grover's Disease Support Group) and personal experience. (The Support Group has a surprising number of women members. I don't know if this means that this is not primarily a men's disease as commonly believed, or if women tend to join support groups more than men. I suspect the latter...) You should also read the very detailed and informative post on Grover's disease in the Support Group.
Recommendations
The number one thing you should know about Grover's disease that it affects people differently. There is no standard cure, standard symptoms (other than extreme itching in most cases), no fixed duration, etc. What works for one person does not necessarily work for another (which is why I have created this page). Here is what else I have learned that has helped me or others.
Heat and sweat are your enemies. One article I read says that Grover's Disease "is believed to be caused by blockages in the sweat glands in the upper layers of skin," so there's that! (I, personally, feel very hot on my neck and back in bed, or on my back in a chair. I am guessing this is because the sweat glands are not operating normally to cool my body.)
A limited amount of sunlight on bare skin is good, but not trapped heat or sweat.
You can fight the itching in four ways: Prescription meds, Over-the-Counter meds, Light treatments, and "natural" remedies, as listed below.
Menthol is your friend! It's my #1 go-to for relief, in several formats.
Prescription Meds
Creams
Triamcinolone Acetonide Cream 0.1%. This corticosteroid seems to be a dermatologist's first choice of treatment. It helped me ... to a limited degree.
Betamethasone Dipropionate Cream 0.05%. This is a "super high potency" corticosteroid (to quote Wikipedia). I found it more effective than Triamcinolone, but my dermatologist (and Wikipedia) warned against long term use, as it may have adverse affects (like thinning the skin). My conclusion is to use it in small areas, and not daily on the same spot; or back off of it completely for awhile. In other words, use it for spot treatment in conjunction with other treatments if your itching is extreme at certain spots.
Mometasone Furoate 0.1%. This is even stronger than Betamethasone and can also have negative side effects. I have never tried it.
Clobetasol Propionate. I have not tried it. Wikipedia says: "Use should be short term and only if other weaker corticosteroids are not effective." I would suggest using it selectively.
Pills
Hydroxyzine HCL 25mg. A prescription antihistamine. Can cause drowsiness, so you may want to take it in the evening. Did nothing for me, but it's a well-known med. (I don't think my problems are histamine based.) Update: I had stopped taking this, but I tried a couple last night again and was amazed how well I slept. I'll continue and update here.
Diphenhydramine (trade names include Benadryl, Unisom, Nytol). It is another powerful prescription antihistamine, who side effects include sleepiness (good!) and upset stomach. I presume the Benadryl you purchase OTC is a lower dose.
Acitretin (Soriatane). Now we are into the big time. You need a blood test before prescribing and periodically with continued use. Has some significant side effects (like hair falling out). This is in the same category as Accutane, I believe. A serious drug for a serious problem. Someone report being "cured" in just one month, lucky soul. CAUTION: This is a very expensive drug. Before you fill a prescription be sure to look it up on GoodRx.com. My first month's supply with insurance would have cost me $560 (in large part satisfying a deductible); but with GoodRx, I effectively got a two month supply for $90 (but only one store offered that price, the others typically around $230). So far (3 weeks as I write this sentence) I have had neither noticeable positive nor negative effects except an occasional upset stomach; and my dermatologist is upping the dosage to 25mg/day as opposed to every two days. Update: Now in my 4th week, in addition to increased itching, new red spots, and sleeplessness, I had a bad 24 hour stomach ache; but my dermatologist wants me to continue pending no stomach problems and a new series of blood tests. Sigh.
OTC Meds
Creams, Lotions, and Powders
The three OTC ingredients that fight itching seem to be Menthol, Pramoxine, and Zinc Oxide. This section discusses medications I have tried or heard about. All the blue texts are purchase links*, not to my benefit.
Sarna Anti-Itch Lotion. This has helped me and lots of other folks. You should note that it comes in two varieties (Regular and Sensitive Skin), and they have very different ingredients. It is also available in generic form (i.e., drug store brand, like Walgreens).

Regular Sarna: This has 0.5% Camphor and 0.5% Menthol, so it gives you a bit of "cold therapy" relief (but has a noticeable odor). Works pretty well for me. My #1 choice.
Sensitive Skin: This contains 1% Pramoxine Hydrochloride. This has not been as effective for me, but your experience may be different. I use it alternatively with Regular Sarna, particularly if going out in public.

DerMend. This is another 1% Pramoxine Hydrochloride product. It would seem to be an alternative to Sarna's Sensitive Skin product.
Itch-X. This is another 1% Pramoxine Hydrochloride product, but it also contains Benzyl alcohol 10%. It's a gel; it goes on very easily and has no odor.
Biofreeze. Interesting stuff! Can't live without it! It comes as a gel, roll-on, or spray and leaves your skin "chilled." My amateur theory is that the chilling disrupts the nerves, either suppressing their ability to transmit the itching sensation or overpowering it. The gel (which I don't particularly like because the product that comes out sticks together so well you may find it dropping in a clump on the floor) contains 4% Menthol. I've never used the roll-on, but it is also 4%. The spray contains 10.5% Menthol. Personally, I love the spray. You can hold it close to zap a spot, or you can hold it over your shoulder, for example, to spray a large area of your back. Once the liquid is on your skin, you can either leave it alone or spread it around further with your finger. You will feel cold afterwards for quite awhile, but it sure beats itching! If you have not used a menthol product before, I suggest you don't start with the spray, though, and do avoid sensitive spots on your body like underarms or "down there" (and don't let the spray hit your eyes or touch your fingers to your eye after using).
Notes!

I use the 3-oz green can readily available in stores, though I may switch to the 4-oz green can on Amazon. The white 4-oz "Professional" version is a curiosity to me, as sometimes it is listed as having 5% menthol, sometimes 10.5%, so I have avoided it. I have not tried it, but it might be better for those who find 10.5% too strong, if you find a 5% version. There is also a 360° spray in a can which looks like the Professional one.
I thought I would try other brands (Icy Hot and Walgreens) because they have 16% menthol. Both had very fine sprays that permeated the air, with less effect on my skin. Not recommended!
Conclusion: The original 3 oz (or 4 oz) green can Biofreeze 10.5% has the best spray and concentration, so it's the one for me. Trust me, I use a lot of it, along with Regular Sarna Lotion!

Lidocaine cream. I have used a generic 4% cream to positive effect. I have been trying an interesting looking product from Amazon: Medcosa Itch Relief Cream (4% Lidocaine, 1% Menthol); but I can't say I'm overly impressed with the results (meaning the menthol didn't seem to add a lot, but I do use this, and it is very easy to spread). I am also using a product from a trusted company: Salonpas Lidocaine Plus (4% Lidocaine, 1% Benzyl Alcohol). It works pretty well.
Calmoseptine Ointment. Lanolin, Menthol, Zinc Oxide, Petrolatum. Moisturizing and "calming" ingredients. I do NOT like this because it is very thick, making it harder to spread and leaving you with a white coating.
Flanax. This contains 10% Menthol plus two other chemicals. It has a very strong smell, sort-of peppermint menthol. You could use this for spot treatment, but never when going out in public soon after! I will probably not buy again due to the very strong smell.
Benadryl Extra Strength Itch Stopping Cream. This contains 2% Diphenhydramine Hydrochloride and 0.1% Zinc Acetate. It helps somewhat and is worth trying.
Eczur Cream by Elimia. Hard to find, but some people highly recommend it. Seems to be a more "natural" product. Haven't tried it.
Gold Bond Lotion or Powder. Many people seem to recommend this (Mentholated powder in particular). There seem to be many kinds, however. If you search "Gold Bond" on Amazon, you will be presented with a dizzying choice! I am currently trying Gold Bond Ultimate Eczema Relief 2% Colloidal Oatmeal with limited relief. I also tried Gold Bond Extra Strength Medicated Powder (green bottle), which keeps getting recommended by Support Group members, some even sprinkling it on sheets at night. I just bought my first bottle to try. So far, it is not helping me much, and of course powder is powder and can get on everything...
Zinc Oxide. Several users highly recommended products with zinc oxide. I tried Boudreaux's Butt Paste Diaper Rash Cream, Maximum Strength, which worked well for one forum user; but I have discarded it after one use because (1) it is extremely thick, like the Calmoseptine, and I got the feeling it may have blocked subsequent applications of other products, which were necessary because, (2) it didn't stop the itching worth beans.
AmLactin or other products with ammonium lactate. The one I tried smelled awful!
Products with 20-40% urea cream (per my dermatologist, but not tried).
Theraplex FT. Contains salicylic acid, which can be used for exfoliation. Not tried.
Witch Hazel. A blast from the past! I've used the liquid, but I just found Witch Hazel Wipes, which solves the problem of how to apply the liquid. Witch Hazel not only offers a slightly cooling effect, but it will clean away whatever cream or lotion you last used before you try a new one. Some people mist it on their body.
Anti-Dandruff Shampoos rubbed on skin and left there 5 minutes. My dermatologist says this is primarily for folks who have a common yeast infection on their skin, and her choice would be Selsun Blue Medicated, selenium sulfide being the active ingredient. Some Support Group members say this type of self-treatment has helped them. Member Craig B wrote: "... I cover the red sores and bumps on my chest with powder. After about two weeks of that approach, each time I shower with Selsun shampoo my bumps and rash appear more 'skin tone', with less redness. Then the bumps dry up, become crusty, and fall off." He warns not to cover your skin with moisturizers while you have "active" red bumps; and when they are healed, go light with moisturizers, because the moisturizer can clog pores, starting the cycle over. I find that to be an interesting comment, because other people say always use a moisturizer before putting on other products. My dermatologist did not agree, so I don't use a separate moisturizer ever. My technique for experimenting with this shampoo has been to put it on prior to entering the shower, then do everything at the sink (brush teeth, take pills, etc.) before entering the shower. I wet just my head in the shower to apply Selsun or regular shampoo, avoiding washing the shampoo off my body as long as possible.
Pills
Cetirizine (generic Zyrtec). My dermatologist said to take it twice daily instead of the once per day normal dosage. Didn't do a thing for me, but helps others.
Benadryl. It's a classic, but it didn't help me. Made me nauseous.
Pepcid 20 mg (Famotidine). Used primarily for gastrointestinal problems, but it is also fights the histamines made in the stomach for digestion. One person suggested it as an alternative to Benadryl. My dermatologist did mention this also.
Fish Oil for Omega-3 has been recommended by some.
Turmeric may be helpful, too, but like Fish Oil, it will be hard to tell, I think.
Natural Remedies
Gel Freezer Packs. I have found that cold packs help in bed against my back (which always feels very hot at night). Obviously I'm talking about the relatively thin flexible ones, not the hard thick ones!
Cooling Vest (pictured right). This seems particularly helpful if someone works outside. One person said they got 6 hours out of it! Here is a different design cooling vest from Amazon.
Turmeric Oil. Personally, I have found this helpful, and I tend to use it first thing in the morning to "hold" me over during the day, when the itching isn't so bad. Note that it should always be mixed with oil (I use Palmer's Cocoa Butter Formula Skin Therapy Moisturizing Body Oil). Not only is the oil good for your skin, but it keeps the turmeric from staining your skin yellow! I have been told that there are many "grades" of turmeric oil, and I am using a rather expensive one by doTerra, which I get from a healthcare provider. I'm open to less expensive versions! Note that use of Turmeric in its various forms is somewhat controversial, as there have not been definitive studies.
Limited Sun. As my dermatologist says, this seems counterintuitive, but a limited amount of sun exposure (say 10 minutes per side) can be helpful. Given that some folks take "light" treatment (albeit at certain frequencies), there is some merit here. Just don't get sweaty and cool off afterwards!
Sensitive Skin Products. This would include laundry detergents, fabric softeners, shampoos, deodorants, shampoos, etc., but can also involve avoiding perfumes, colognes, animal hair, latex, and the list goes on. Note that one doctor writes, "Soap is bad for Grover's disease involved skin." He recommends using only water on inflamed areas.
Avoid classic allergy items. While you may not be allergic to them per se, Grover's affected skin can react badly (as adhesive tape and mushrooms have done for me). Thus the "Sensitive Skin Products" list above.
Red Wine Sulfite and Histamine Filters. I hesitate to call them removers, but there are numerous products on the market that claim to filter out sulfites and histamines (!). Read carefully and try one or two. Some folks swear by them, but there are so many things that cause Grover's itching that it's hard to lay a solution on one product. I started using one (because I drink red wine daily); and after I used it up, I concluded this is not my problem or solution.
Cilantro shakes. While you'll never get me to try one (I'm one of the 20% of the population with a genetic extreme dislike for cilantro), lots of folks seem to say they are helpful. One article I read says, "... perhaps the most effective remedy for Grover's Disease is cilantro." On Facebook, Linda Beattie gave this recipe:
Cilantro & Chlorella Smoothie
1. Cilantro about 1/3 bunch of it
2. Organic Chlorella 1 scoop that's included in container. I order the Chlorella off Amazon.
3. Water or milk or half and half of both. I prefer both.
4. 1 or 2 scoops of protein powder, scoop in container. I use strawberry banana flavor
5. Frozen fruit is something I add when I feel like adding some.
6. Be creative remembering that the Cilantro and Chlorella are NOT negotiable.
7. Put everything in [a blender] and enjoy!
Other Options
Light treatments. These can either be at a professional facility (often paid for by insurance, I'm told), or with home kits. The primary type of light you want is UVB therapy. I have no experience here, but see the Facebook Grover's Discussion Group. Update: I'm about to start treatments soon.
And In Conclusion ...
As I said at the start, I'm no expert, and I'm just trying to gather helpful information in one place for fellow sufferers. There is no one solution, but these are some to try. For me, there is no better relief than menthol, and my dermatologist says it will not damage the skin (whew!). Feel free to write me via the email link below what has worked for you or any other comments on this article. Good luck!
Fred
* DISCLAIMER: Any links to Amazon products on this page contain a referral code directly benefiting the American Council of the Blind, for whom I am a contractor. They do not benefit me.
---