Newsletter 1: Bush and Farm Orientation, Arrival at Campus, Cairns Trip
July 28, 1999
Okay, now that I finally have access to e-mail I can do as promised and
send you a newsletter explaining to you my experiences so far since I
know that's what everyone wants to know! And I figured I'd do it all at
once. This one is going to be a little longer than a normal one just
because I have done so much in the little time that I have been here,
but then I will try to send one out every other week letting you know
what I've been up to!:-)

To start things off, the plane ride was very long. I don't think I
slept at all!! But, amazingly enough once I got to Australia, I didn't
suffer from that much jet lag at all, even though I did sleep quite well
that night! We were met at the airport by the Butler staff and they
took us in buses to our orientation site--a place called Mungalli
Falls. It was really beautiful. It was located in the rainforest and
had this beautiful waterfall running down in the middle of it. We
stayed in little cabins with 3-4 people in each. But, it was muggy
there and pretty humid, so nothing really dried well at all and you felt
wet all of the time. One the second day that we were there we went
hiking through the rainforest. It was so cool! And we learned all the
plants that you are not supposed to touch! Basically we have learned
just not to touch anything here! You never know what may bite you or
harm you!:-) Then we went swimming at the base of a waterfall in the
middle of the rainforest! It was sooo cool! But, the water was a
little chilly though! That night we went on a night walk in the rain
forest and saw all these interesting little things. For instance, they
have glowworms which glow in the night time. It's really neat to walk
along and you see these little pin points of glowing light as you walk
along. The night sky is absolutly beautiful here! Did you know that we
see a totally different sky here? Instead of a north star, they have
what is called the southern cross which points towards the south pole.
Also, here you can can see the Milky Way across the entire sky! It is
so pretty! I've never seen this many stars before! The next day, I
went abseiling or rapelling. We went down this rock face right next to
the waterfall. It was kinda scary at first, but it was a fun experience
once you got into it. That afternoon we had little aboriginal children
come and perform for us. They were so cute!! They all wanted to talk
to us afterwards because they were fascinated by our American accents!

Then we left Mungalli Falls and headed to a farm where we would stay for
the next couple of days. We stayed in these cute little cabins a little
distance away from the main house. That afternoon we got to feed all
the animals -- goats, sheep, cows, horses, ducks, chicken, and geese.
The next day we got up at the crack of dawn by the stupid rooster and
then I got to milk a cow! I don't think the cow liked me very much
though. That afternoon we went horseback riding. It was okay, but the
trotting bit scared me a little because I kept thinking that I was going
to fall off!!! I guess I was never meant to ride horses!

The next morning we left and drove here to campus. The college that I'm
staying in is quite nice. I have a pretty big single, a desk, a
dresser, and 2 closets!!! They have washing machines downstairs, but
unfortunately no dryers! So, you have to dry all of your clothes by
hanging them! Also, the bathrooms and floors are co-ed. That's going
to take some getting used to. As of yet, there are no Australians back
on my floor except my RA who goes in and out a lot. There are also 3
other American students, 1 girl and 2 guys. Supposedly our college has
the best food on campus, so that's good. But, I've never actually tried
the meat here, it's always looked a little frightening. Over all the
food is pretty good, and almost like what we are used to with a little
difference in the flavourings that they use when they cook. Two things
we've found that they don't have over here are ranch dressing and maple
syrup. Their version of ketchup is a little weird too. For breakfast
they eat vegemite a lot which is yeast extract and looks and smells
absolutly disgusting! But, they seem to like it so, whatever.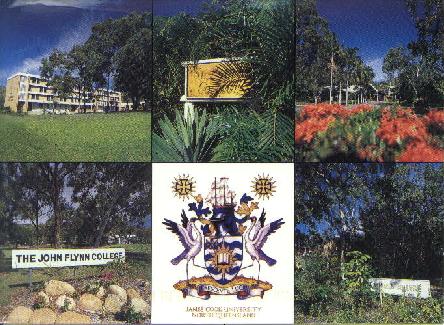 After a couple of days, a bunch of us bought bikes and have found that
the beach is only a 45 minute drive away. It's quite nice to have a
beach that close, although it does get a little chilly late in the
afternoon. The weather goes to the upper 70's everyday, but cools off
and gets quite chilly during the night, but it is the middle of winter,
so I guess that's allowed!:-)

Since we had an empty week before orientation, 10 of us rented a car for
the week and took a road trip. We rented a land cruiser and drove up to
Mission Beach for one night. We spent the afternoon on the beach and
then went looking for a cassoweary in the afternoon. A cassoweary is a
large flightless bird with these huge claws that can kill you! It was a
scary bird to look at!!! That night I spent the night sleeping under
the stars. Needless to say, I didn't sleep well at all that night!:-)
The next day we drove up to Cairns where we stayed in a hostel there for
the next few nights. It was nice, not at all what I expected it to be.
The next day, we spent the day in the rainforest. We took the world's
longest gondola up over the canopy of the rainforest! It was soo
beautiful! It's hard to describe the experience to someone, you just
have to go and see it for yourself. And then we spent a little time at
the village at the top called Kurunda which is located right in the
middle of the rainforest. That afternoon we went to an animal
sanctuary. There I got to feed and pat a kangaroo! They are such cute
animals! We also saw this huge crocadile who was 7 meters long! His
name was Jack the Ripper and he was huge!! Then we got to see koala
bears! They really are as cute in person as they are in pictures! They
are so cuddly looking. Then we took a tour in an army duck through the
rainforest which was interesting as well and learned more about the
plants and stuff that are there. After that we saw aboriginal dancers
and they showed us how to throw a spear and a boomerang. I attempted to
throw a boomerang, but needless to say, it didn't come back! Then to
get back down the mountain we took a scenic train, which needless to say
was very scenic. The next day we took a boat ride out to the Great
Barrier Reef. The boat ride was less than pleasant as the water was
quite choppy. Four of us formed the back of the boat club. But, once
we got out there it was well worth it! Although is was cloudy you could
still see all of the colors underwater and everything! We went
snorkeling on two different reefs and it was amazing!!! You wouldn't
believe how beautiful life is under the water! There are so many cool
things to see. As I said before, it's hard to explain to someone who
has never been there, you just have to see it for yourself!!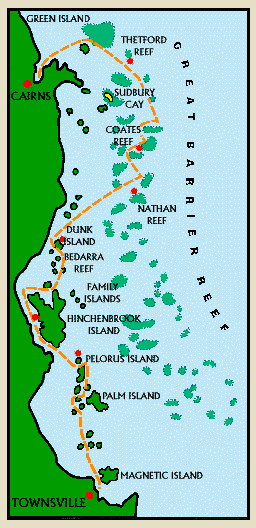 Now I am back at school and we are going through orientation before
classes start next week. You would not believe how frustrating it is to
figure out what classes to take!!! They don't offer classes at normal
times!! All of my classes are at different times on different days.
For instance one of my classes meets Monday at 1, Thursday at 12, and
Friday at 4! It's so crazy! I think I finally have my schedule figured
out and am going to register tomorrow. I plan on taking international
history, animal behaviour, marine invertabrate diverstiy, and intro to
exercise science. Well, that's all for now! As I said before, keep in
touch and feel free to ask any questions that you might have! I'll be
sending out another newsletter in another 2 weeks, but don't worry, if
you e-mail me before then, I will respond!:-)

Love, Michelle