Our 25th Anniversary Trip to Australia and Fiji
September/October 1999
Continued
Adelaide
We left Sydney for Adelaide (which is in the state of South Australia). This was the first of two stays in Australia where we would arrive one day (late afternoon or evening), leave the next for an overnight trip, and return to the same hotel late the next day. For these trips we packed our overnight essentials in a backpack and left our suitcases at the hotel, a technique that worked out quite well for us. We actually carried the backpack with us (with less inside) most everywhere we went, and Kathy bought a special pocketbook (at REI) which she carried everywhere, containing our passports, tickets, etc.
Our purpose in going to Adelaide was really only as a starting point to travel south the next day to Kangaroo Island (see below), but we did enjoy our brief visit, and we would recommend this area to anyone. We took a bus tour of the city, which was designed as a series of evenly laid out square blocks (hard to get lost), set inside a perimeter of public park land, which in turn gave way to small mountains -- just beautiful! Our bus tour included a trip to neighboring seashore town Glenelg, small but quite attractive and an alternative worth considering for accommodations. Our biggest regret was that we didn't have time to visit wine country in this region, which, in our opinion, produces some of the finest wines in the world. We did enjoy drinking wine and eating at a small bar/restaurant where we had some of the best wine on our trip. We ate outside on the balcony that hung over the sidewalk. (As an aside, many of Australia's shopping areas have wide overhangs over the sidewalk, a nice touch, with outside dining a frequent option.)
Kangaroo Island
We booked a two day tour of Kangaroo Island (using Kangaroo Island SeaLink) pretty much at the insistence of our travel agent; but as we left Adelaide for Kangaroo Island, we were apprehensive. Every Australian to whom Michelle or we had mentioned that we were going there had questioned why! One had described it as a barren wasteland with a name selected for marketing purposes only. So let's clear the record up front: Kangaroo Island was the highlight of our Australian vacation! (We can only guess that Australians have seen all the things we saw on Kangaroo Island before, but we hadn't.)
We took a bus from Adelaide south to Cape Jervis at an ungodly hour, because it took about 2 hours to get there! A shorter ferry ride took us over to the island itself, where we boarded a tour bus for the rest of the day. Dave, our SeaLink driver, had only been living on Kangaroo Island since the beginning of the year, doing this tour for six months, but he was absolutely the best tour driver we ever experienced. He talked constantly about the flora, fauna, ecology, history, present, and future of the island -- we learned so much. On this tour we:
saw Australian Sea Lions in their native habitat, approaching them as close as six feet
approached wild Koalas and kangaroos (or were they wallabies?) as near as three feet
fed kangaroos by hand, patted a Koala, saw an echidna and a pair of emus, and held a baby wallaby in an animal preserve
saw seals basking on the rocks in marvelously scenic rocky cliffs by the sea
visited a honey farm and tasted absolutely delicious freshly made honey ice cream
visited a eucalyptus oil factory and learned how they make the oil using ancient tools and processes requiring no electricity (sounds dull, but it really wasn't!)
visited a seafood "farm" where marron and yabby (look and taste like crayfish) are grown and harvested (a fascinating process that you just have to see to appreciate)
visited a sheep farm, watched the milking process, and tasted fabulous cheeses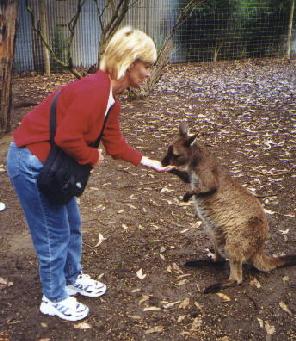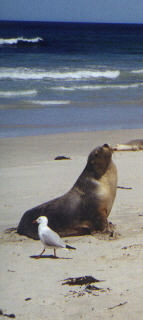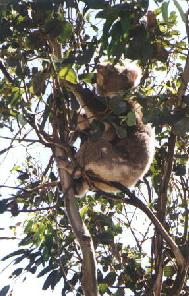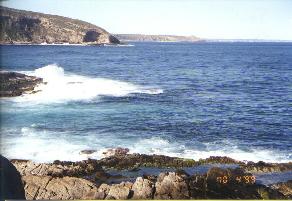 We stayed on the island overnight in Kingscote, a very scenic little town on the shore. The "tasting" tour was the second day, before our return to Cape Jervis and Adelaide. You can do a portion of this tour in one (long) day, saving some time by flying in, if you like. Both days of touring were definitely worth it.
Next: On to Townsville and Cairns
---