Our 25th Anniversary Trip to Australia and Fiji
September/October 1999
Continued
Fiji
We may have left Cairns at 6:20AM, but it was nearly dark by the time we got to Fiji! The combined flights were seven hours, plus a 2-1/2 hour layover in Sydney, which, combined with the time zone change brought us in to Fiji at 5:30 PM. The ride from the airport to the hotel took nearly an hour by private van! It was a paved two-lane road with not a single traffic light or stop sign all the way, and few businesses or residences alongside. There were sugar cane fields, in which we could see and smell occasional burning of the leftover crop. (The map below puts Fiji in perspective with Australia, USA, Tahiti, and Hawaii.)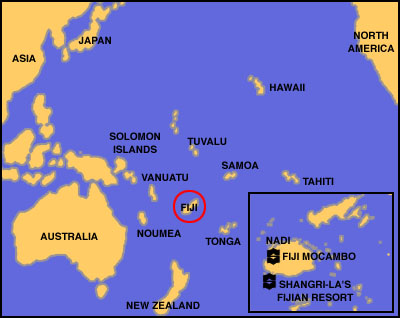 We finally arrived at the (Shangri La's) Fijian Resort, a huge piece of property on a private island (Yanuca). Fiji is comprised of hundreds of islands (332, 100 inhabited), only two of which are large. The airport is in Nadi (pronounced Nandi) on the island of Viti Levu ("Big Fiji"), the capital of which is Suva on the southeastern tip, a 3-4 hour trip from Nadi. While we had planned to take one tour in Fiji, perhaps a boat trip to see other islands, we ended up not doing anything except relaxing on the property itself. Someone told us they had gone to Suva and it wasn't worth it, and we didn't see any boat trips of interest (too far, I think). There were some train rides to local villages, but we weren't motivated! So we just lay around in the tropical shade, enjoying the warm air (tough life, but someone has to do it....!). We took a short harbor ride, and Fred went snorkeling on the reef nearby -- a terrific experience, even though it was a dying reef, damaged by storms.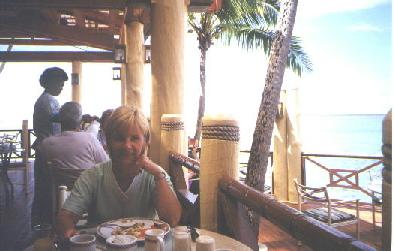 There were six restaurants on the property and as many bars. The meals were OK (one, in the upscale restaurant, was excellent) and were particularly enjoyable when taken outside (most of the restaurants were open to the outside even when seated inside). A disappointment: the tropical drinks. The men (who invariably wore skirts) were always very friendly (the waiter in the upscale restaurant shook our hands at the beginning of the meal and asked us our first names, by which he subsequently addressed us!); the women were variable in their friendliness, although EVERYONE on the island says "Bula!" (a Fijian greeting) whenever you pass nearby. Tipping is nonexistent -- there is not even a place on the restaurant check to add a tip.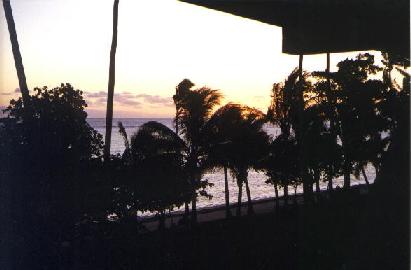 The Return Home
And finally it was time to leave. Another hour ride to the airport, this time in the evening for an 11:30 PM departure. You have to remember to save FJ$20 per person to pay as a departure tax, though they do accept VISA/MC. The duty free stores offer excellent prices on liquor (I bought an expensive after dinner liqueur for half what I would pay in Raleigh). Then it was back on the plane, eat, watch a move, and fade in and out of sleep for the 10 hour return flight, arriving LA at 3 PM. Although we felt good enough to push through to Raleigh, we had previously booked a hotel and a return flight the next morning. We arrived in Raleigh at 5 PM the next day, again bucking time zone changes. It took a few days to get sleeping properly, but we were pretty much OK during the day.
And now we are thinking about our next trip!
Fred and Kathy Brack, October 1999
---
If you enjoyed this page, perhaps you would like to see one of our other trips:
---