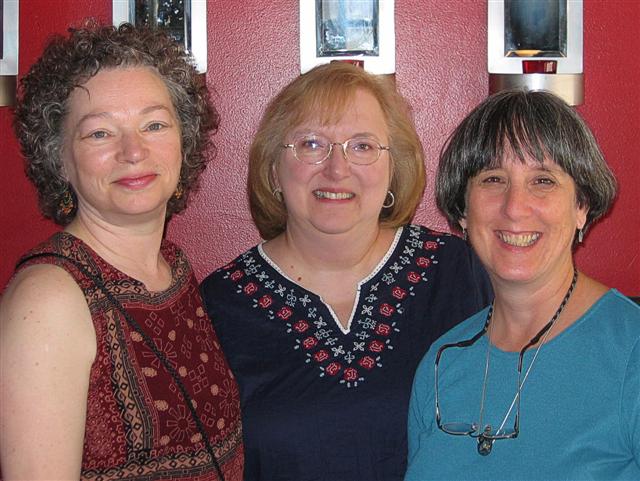 Suzanne Schaffner Borstein, Barbar Bertsch Boyd, Janet Levy
WBRU alumni from the 1960s era held a reunion in Providence on June 24-26, 2005. By any standard, it was a very memorable and enjoyable occasion. As several folks noted, each of us there knew most of the other attendees due to our common tie to the radio station. Those of us who attended in the second half of the 1960s at least recognized the names of many of those who graduated in the first half and may have even met them on a visit to the radio station during our time at Brown. Many a friendship was renewed, and undoubtedly email and personal invitations to visit will follow. And we're likely to do it all again in five years!
WBRU and BSR hosted visits for us and gave us tours of their facilities, which were very informative -- thank you! And thank you also to John Leistritz, Stu Aaronson, and Art Norwalk for making all the reunion arrangements.
Here is a list of the 44 people who attended.
Stu Aaronson
Ralph Begleiter
Don Berns
Les Blatt
Adam Blistein
Suzanne Schaffner Borstein
Barbara Bertsch Boyd
Fred Brack
Jim Brennan
Rich Brodsky
Bob Cope
Jon Cowan
Jane DiFusco
Jack Edmonston

Richard Epstein
Andy Fisher
John Hall
Don Harris
Jerry Hubeny
Harlan Hurwitz
Mark Jordan
Jon Kertzer
John Leistritz
Janet Levy
Larry Maier
Pete Miller
Art Norwalk
Roger Norton
Dave Ogden

Paul Payton
Dave Pearce
Vito Perillo
Rick Pike
Allan Riffer
Jack Rose
Kurt Salsburg
Jim Schantz
Bette Schultz
Dan Schneider
Moe Shore
Rob Sloan
Charlie Sokoloff
Pete Tannenwald
Fred Taylor
---