Our 25th Anniversary Trip to Australia and Fiji
September/October 1999
To celebrate our 25th wedding anniversary, Fred and Kathy took a 3-week trip to Australia and Fiji in September/October 1999. This also allowed us to visit our daughter Michelle, studying there for a semester abroad. The next four web pages document our experience for the benefit of anyone planning a trip or who is interested in the area, and imbedded hotlinks will take you to further information or pictures on any underlined subject. Please report any link which fails using my ID at the bottom of this page.
Since we knew very little about Australia, it was important to us to choose a travel agent specializing in the area. We chose Lesley Thomas-Cullen of [contact information no longer valid...]. She has lived in Australia, New Zealand, and Fiji. With a few exceptions in Sydney, she put together all our airfare, hotels, tours, and most importantly, transfers.
(The second most important person in our trip planning was Kathy's Aunt Ruth, who came to our home and helped look after Dan and our two dogs -- but she is not available to you!)
The Trip Over
We chose to treat our aging bodies as gently as possible at the beginning of the trip by flying from Raleigh to Los Angeles and staying overnight at a hotel before taking the 15 hour flight to Sydney, Australia. Then, we chose to leave LA at 1 in the afternoon, so we would arrive in Sydney in the evening, truly ready for bed, to help with the 14 hour time zone difference! Lastly, we made a big financial sacrifice and chose (for the first time in our lives) to fly business class. It is hard to justify the cost difference, but the seats were wonderful (wide, comfortable, lounge position, personal TVs), in a separate section of the aircraft, with outstanding service and wonderful food and wine. The truth is that we found the 15 hour journey, which we were dreading, quite tolerable. (We flew Qantas in a 747-400. Qantas has a great reputation. Coming back we flew Air Pacific, chartered by Qantas, which wasn't quite as luxurious, but was nevertheless much more comfortable than economy class.)
Arrival
We arrived ontime, had a bit of difficulty figuring out the best way to get to our hotel, took a brief walk around outside the hotel (Oxford Street is very interesting at night!), then went to bed! (Our hotel in Sydney was arranged personally, not by our travel agent, to take advantage of some very old frequent travel points; otherwise our agent would have arranged transportation. While our Sydney Pass (see below) allowed for a "free" trip from the airport to town, the bus was not leaving for awhile, and the dropoff point was not exactly in front of our hotel. We ended up taking a van with some others. These vans are not clearly marked as taxis, but the price is fixed and reasonable.)
Sydney
It was pointed out to us before we left -- and we completely agree -- it is difficult to spend too much time in Sydney and very easy to spend too little! We were there for four full days, one of which we spent on a wine country trip (see below), and this is really the minimum we would recommend to anyone. We were on the go all day, everyday, and we never even entered one of the many museums, visited the excellent Taronga Zoo, or attended a performance at the famous Sydney Opera House.
Greater Sydney (700 square miles) is home to nearly one quarter (4 million) of all Australians. When one refers to visiting Sydney, they usually mean the "downtown" area immediately around the label "Sydney" in the map below.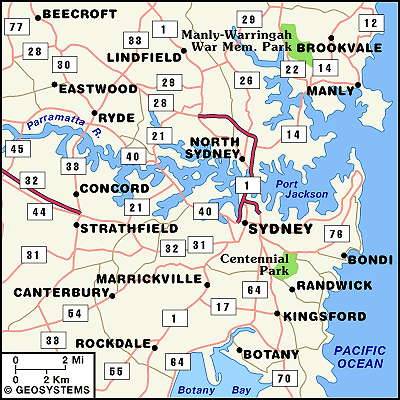 Route 1 crosses the picturesque Harbour Bridge from North Sydney into Sydney (right under the "1" in a box in the map above to the left of Port Jackson), and the famous Sydney Opera House (same picture) is immediately east of the bridge (at the lower right edge of the box with the "1" in it). Just to the left of route 1 into Sydney is Darling Harbour, home to many attractions. The Circular Quay, just below the 1, is the departure point for most ferries and busses. Ferries take you out through Port Jackson for scenic tours or up to Manly beach. Bondi, another famous beach, is reached by bus. Our hotel, the Sydney Marriott, is just about where the "Sydney" dot is located. The 2000 Olympics took place primarily in Olympic Park, located approximately where the 32 and 44 route markers are to the west of Concord and Strathford. For more photos of the area, visit Skycam Australia.
If you are staying in Sydney 3 days or more, it is wise to purchase a Sydney Pass. The Pass can be purchased for a certain number of days (3, 5, or 7), but the 3 and 5-day Pass days don't have to be consecutive as long as they fall within a 7-day period. The pass covers all Sydney transportation such as ferries, harbour cruises, city busses, trains, two narrated sightseeing tours (City and Bondi beach), and transportation to and from the airport (which can be used outside the specific days purchased by the pass). We paid A$85 (approx US$56) for each 3-day adult pass. (For comparison, a city tour bus is A$28, harbour cruise A$13-19, airport bus A$10, ferries, busses, and trains priced individually.) Follow the underlined link above for more details.
In addition to walking around a lot through public parks, the botanical gardens, the waterfront area, and shopping, we took the Sydney Explorer city bus tour (you can get on and off this 1-1/2 hour narrated tour, picking up the next bus), the Bondi and Bay Explorer (2 hours, including some spectacular coastal scenery, again with the ability to get on and off), the harbour cruise, the ferry to Manly, and the monorail (not included in Sydney Pass). The area around Darling Harbour is particularly interesting, including an IMAX theatre, a casino (don't ask...), and lots of restaurants. There are several established shopping districts, too. Of course you must visit the Sydney Opera House (they have guided tours for a fee, but we didn't take one, nor could we find anything on their agenda that we were interested in attending). If you have the time and interest, you may climb to the top of the Harbour Bridge with a guide. What a view there must be up there! You should consider the narrated city tour and harbour tours "mandatory"!
Hunter Valley Wine Tour
Kathy and I love Australian wines best of all, so a tour of wine country was a requirement of our trip! We could have done this in either Sydney or Adelaide, but we didn't have time in Adelaide, so we chose to visit Hunter Valley (in the state of New South Wales, same as Sydney). They are numerous touring options, including full busloads with the wineries hosting limited tastings, all the way to private tours. We chose to go on a semi-private tour in a van that could take seven people, but only had five on our trip. It was a wise choice, as we had a marvelous tour hosted personally by Richard Everett, the owner/driver of the one-van company, Wine Country Tours. Richard had 25 years experience in the wine industry before he started this tour business on his own, and he, not the wineries, hosted us at the wineries.
First he showed us the vineyards at Tyrrell's Wines and walked us through the winery, reviewing the steps to make wine. Then he hosted a tasting of a whopping 17 bottles of wine, every one of which was marvelous (especially Tyrrell's top-of-the-line 1999 Vat 47 Pinot Chardonnay, superb now, with an amazing 10 years of aging possible). Along the way he kept up a constant patter of information about wines, Australia, local politics, etc. He even educated us on Singapore (the other couple was from there) and surrounding countries.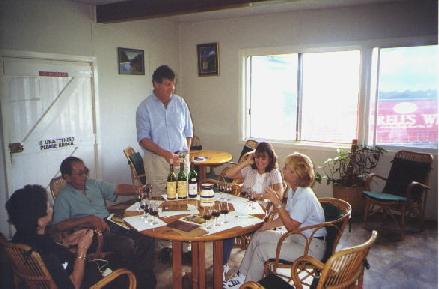 Then we went off to a truly gourmet lunch at Robert's restaurant on the Pepper Tree Wines property, followed by a tasting of 8 more wines! What a marvelous day!
Next: On to Adelaide and Kangaroo Island
---