Fred retired from IBM after 31 years, then ran a small Internet-based business from home from 2003-2015: "Bracksco Wine Nook, featuring VintageView Wine Racks and Personalized Wine Accessories." He now offers his services as an Audio Describer and VoiceOver Artist and is the webmaster for the American Council of the Blind's Audio Description Project.
In February 2011, Kathy, along with her Seeing Eye dog Wilda, retired from her job as Director of the Client Assistance Program for the State of NC. In January 2020 she received her eighth dog, KOINU (which means puppy in Japanese), a very small black lab who is doing great! (Read this Facebook post about Kathy and her dogs!)
Daughter Michelle is a nurse in the (cardiac) Cath Lab at Rex hospital, following five years at Durham Regional Hospital. She lives in Durham with her Boston Terrier, Tanner.
Son Dan married (nurse practitioner) Reneé Denbow in March 2014. They "gave" us three grandchildren: Blakely, Hayden, and Ariella. At the start of 2019, Dan took a new job with Intuitive Surgical (which makes the da Vinci Surgical Robotic System), and they now live in the Atlanta area.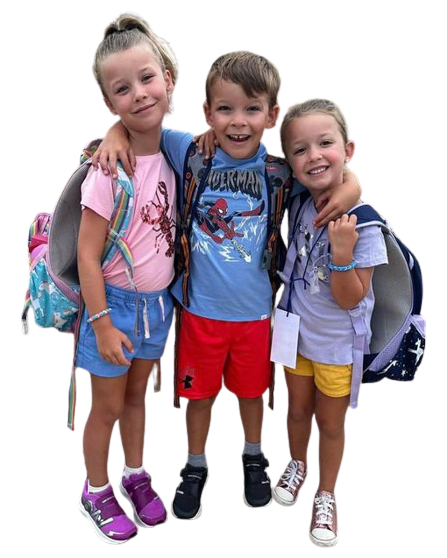 The Grandkids (August 2023)
Fred maintains websites for The Audio Description Project (for which he received an award in July 2016 and which is now a half-time contractor job); the Triangle Chapter of the American Wine Society, the Needham High School Class of 1964; and for members of Brown University's radio station WBRU in the 1960s. He continues in his role as an audio describer (since 1999) and trainer for Arts Access, and he records a weekly program for the NC Reading Service (since 1999). He was previously on the board of both organizations plus the Wine Society.
We moved into our custom designed new home in 2001. We also owned a condo on the Intracoastal Waterway in Belhaven, NC, from 2007-2020; but we sold it as we want to do more traveling elsewhere (like Atlanta!). We finally plan to resume yearly international travel in June 2023 with a twice-postponed trip down the Danube river.
Links to My Pages and Info
TRAVELOGUES (photos and text)
Note: Most of these travels relied on Shutterfly to host the photos. They discontinued this service and I am trying to figure out what to do now. SORRY! (May 14, 2023)
TECHNICAL STUFF

HTML Tips
JavaScript
PHP
The REXX Programming Language
Other Potentially Boring Technical Stuff

MISCELLANEOUS
THIS PAGE: Business, Personal, Family, Charity Interests
---
Business
Current: I'm retired, but active maintaining the American Council of the Blind's Audio Description Project website, doing audio description, and some voice-over work.
I worked in software development and human resources for IBM for nearly 31 years, but I retired in 1999. I took time off to whittle away at my home project list and to "smell the roses" before deciding what to do next. From the Fall of 2000 to the end of 2006 I worked part-time from home for IBM Human Resources at RTP to help maintain the Lotus Notes databases I left behind when I retired.

When I retired, I was a Senior HR Professional, and my core HR responsibilities were primarily executive and technical resource development. However, during the last three years there I spent over half my time developing applications using Lotus Notes for use by my IBM HR teammates and internal customers, mostly software development managers, a position I held prior to joining HR.

In the summer of 2003, I started my own small business as a distributor for a unique line of wine racks called VintageView® (sample pictured left). I named the business BRACKSCO and named the website Bracksco Wine Nook (www.bracksco.com, now closed except for my article on how to build a wine room). I really enjoyed helping people design wine rooms, and I also sold personalized wine accessories, which required learning some new skills. I closed the business and retired in July 2015.

In June of 2014, I began work (part-time) as a professional voice-over artist. My voice profile can be viewed and listened to at www.bracksco.com/voiceover (additional recordings at www.voices.com/people/fbrack).

I am also a web page designer and webmaster. I have designed and maintained eight websites. My primary responsibility which keeps me busy every week is the Audio Description Project's website.
Personal
Kathy and I love wine, and we built a wine storage room in our new house. We are life members of the American Wine Society and are active in the local chapter.

Other interests include computers, boating, music, photography, amateur radio (I'm N4ECU, though inactive), tandem bike riding with my wife, walking, nature, fine dining, and occasional skydiving (well, I skydived once...).

Top
---
Family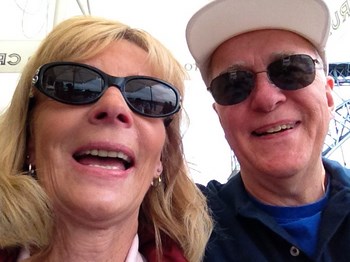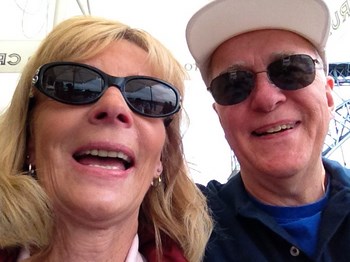 My family consists of:
Wife Kathy, who retired in January 2011 as the Director of the Client Assistance Program for the NC Division of Vocational Rehabilitation under the NC Department of Health and Human Resources. Read about her Award of Excellence from Universal Disability Advocates here!
Daughter Michelle graduated from Wake Forest University in Winston-Salem, NC, in 2001, having also completed a year abroad at James Cook University in Townsville, North Queensland, Australia (read about her trip here). She worked at Duke University as a research lab assistant for 18 months, then as an animal technician for a local vet. In May 2008, she graduated from Watts School of Nursing (affiliated with Duke University) and worked at Durham Regional Hospital as a Registered Nurse in the ICU for five years. Now she works in the Cardiac Catheterization Lab at Rex Hospital. In 2011, she purchased her own townhome in Raleigh, where she lives with her second Boston Terrier, Tanner. My how we miss the first one, Layla ...
Son Dan graduated in 2007 from UNC Wilmington, having graduated from Millbrook High School in Raleigh and Cape Fear Community College in Wilmington. He was formerly a volunteer fireman, lifeguard, bartender, waiter, and drummer. In 2005-2007 he cleaned boat bottoms to earn money for school, utilizing his new found hobby, scuba diving. He did an internship with Northwestern Mutual Financial Network as a licensed insurance agent, but he held out for a pharmaceutical position and got a great job opportunity with Novo Nordisk as a pharmaceutical sales rep for diabetes products. After a training assignment in Las Vegas for 8 months, he worked a territory in Washington state, living in downtown Portland, Oregon. In early 2010 he had the opportunity to transfer back to Raleigh, so the family was all together again. He was very successful, receiving awards and promotions. In 2011 he purchased his own home in Raleigh. In March 2014, he married Reneé Denbow; and in November 2015, they had their first child, Blakely, followed by Hayden in December 2016, and lastly Ariella born July 2018, not long after Reneé became a Nurse Practitioner. In 2019, Dan took a new position with Intuitive Surgical, the pioneers of the da Vinci Surgical System, and he and his family moved to the Atlanta area that June, where he trains surgeons on the use of the robotic machine.
We have lived in Raleigh, North Carolina since 1981. Previously, we lived in Gaithersburg, Maryland, and the suburbs of Boston, where Kathy and I grew up (in Melrose and Needham, respectively). In the past, we used to go back to visit Cape Cod every couple of years, and we spent many vacations at Emerald Isle, NC; and we spent many weekends at our now-sold condo in Belhaven. My work in building a high school reunion website and college radio station memories website has renewed some old acquaintances, which I find most delightful. If you know me from "those days," send me an email to say hello!
I am a graduate of Brown University, in Providence, Rhode Island; and Kathy is a graduate of Boston College and Emmanuel. I also attended IBM's System Research Institute back in the early 70s.

Top
---
Charity and Non-Profit Interests
The Audio Description Project, where I have been the webmaster since 2003, spreading the word about the status of audio description in all media around the world. For instance, I maintain the only listing in the world of DVDs in the USA with audio description tracks. I received an award for this work in July 2016.
Arts Access of Raleigh, where I "retired" in 2011 as the second longest serving board member and the webmaster, having previously served as President. Treasurer, and Secretary at various times, and where I still am an Audio Describer (a person who narrates the visual images of theater and other arts for persons who are blind or visually impaired).
NC Reading Service (which serves primarily people with visually impairments who listen on special receivers or via podcasts) where I was formerly a board member, and I have a half-hour weekly show reading "Our State" magazine (listen to the podcasts). I was also their webmaster until they hired a company to maintain it.
For five years, I was Vice Chair of the Family Selection Committee for Wake County Habitat for Humanity.
The Seeing Eye, because Kathy is a long-time user of guide dogs from the Seeing Eye®.
The Alzheimer's Association and The Nature Conservancy, in memory of my mother, Virginia Wood (Brack) Cordes, 1917-1998.