Our Trip to Iceland, August 2023
by Fred Brack
Updated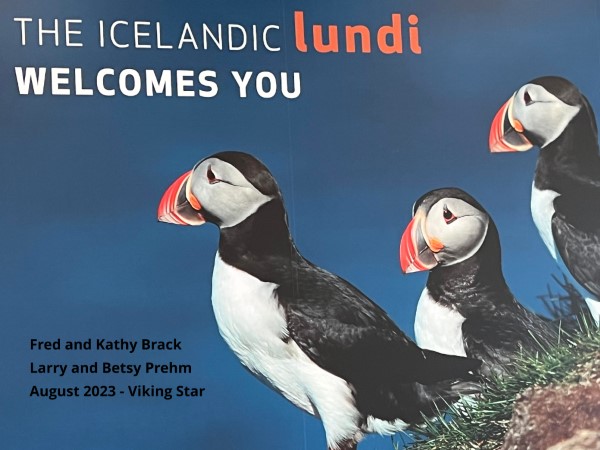 In August 2023, Kathy and I traveled to Iceland with my sister, Betsy Prehm, and her husband, Larry, to help them celebrate their 50th wedding anniversary. We flew to Iceland via IcelandAir direct from Raleigh and toured the country by ship via the Viking Star.
The trip on IcelandAir was direct from Raleigh, and amazingly it was also nonstop from Denver, CO, where my sister lives. The cost was about half that of other airlines which had non-direct flights. They have an extensive gin menu onboard, so you may wish to try a gin and tonic! We landed in the capital city, Reykjavick, where 36% of the population lives, boarding our ship the next day.
Everyone asks, "What did you think of Iceland?" The answer is simple: It was a very interesting and different place to visit, but there is no need or desire to return.
As regards the Viking Star, if you have not traveled on a true luxury liner such as Regent, Oceania, Seaborne, or Crystal, then it's very nice, and a lot less expensive. The food quality and variety was pretty good, if a bit variable, but we didn't think the drink package was worth the extra money. The room size was fine, though the bathroom was smaller than we prefer. (Our room classification was Penthouse Veranda, 338 square feet. Even though Iceland is cool, we would recommend a room with a veranda.)
Iceland is an island sitting on the boundary between the Eurasian and North American Tectonic Plates on the Mid-Atlantic Ridge at the juncture of the North Atlantic and Artic Oceans, just south of the Artic Circle. (Whoop-De-Do, we got a certificate for traveling north of the Artic Circle one day!) For practical purposes, Iceland is considered part of Europe, 525 miles distant. It was formed about 17 million years ago via volcanic activity, and the island is still subject to various acts of volcanism, the most recent significant event being in 2021. Essentially everyone speaks English, and surprisingly well. Every tour guide we had was wonderful -- and none of the young guides want to leave Iceland!
We liked Reykjavik. It is not a city with skyscrapers and has a lot of charm. It is on the water. The airport is about an hour away, though, so travel back and forth is expensive. Tipping is not expected in Iceland, which is nice, though most of us tipped the guides. You should do so in local currency, though, not in dollars or Euros.
The landscape of Iceland is typically pretty barren, with fields containing chunks both large and small of volcanic rock. They have scenic waterfalls and a few geysers. Their power and hot water come via geothermic energy - very eco-friendly.

Back to Fred's home page.
Fred
---