Fred and Kathy's Trip to the United Kingdom
May 2010
Introduction
In May 2010 we traveled with another couple to the UK. As we have done in the past, we looked for a trip that covered a wide area, so we could get to know the region and decide where we might like to return someday. So it was important to us to find a trip which include not only England, but also Scotland and Wales. For the third time we chose Collette Vacations, booking through Affordable Tours (which offers a discount off of published prices). We booked our own air, however, because we were able to fly non-stop from Raleigh to London, and Collette doesn't offer that option.
The picture to the right lays out our trip, starting in London, traveling north to Scotland, down into Wales, and ending (incorrectly shown) with two nights in Stratford-Upon-Avon.
London
We arrived about 7am, took a chance and hauled our own luggage from the airport to the hotel via the Underground (subway). That was a bit exhausting, but interesting. We then set out for a day of sightseeing on our own.
One of the most obvious landmarks in London is the London Eye, built in 1999, which looks like a giant Ferris Wheel. We didn't go on it, but there is usually quite a line waiting to get on, and it takes 30 minutes to go around. I think it costs about $22. It's diagonally across the river from Parliament (House of Commons and House of Lords), which is right next to Big Ben and the Westminster Bridge, all of which are pictured below on the River Thames.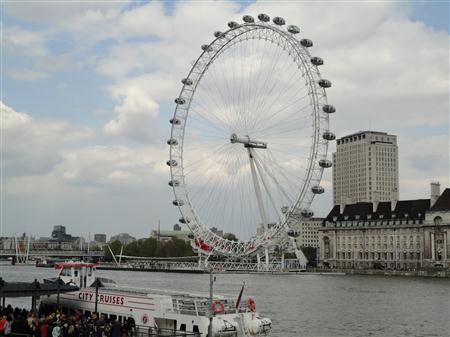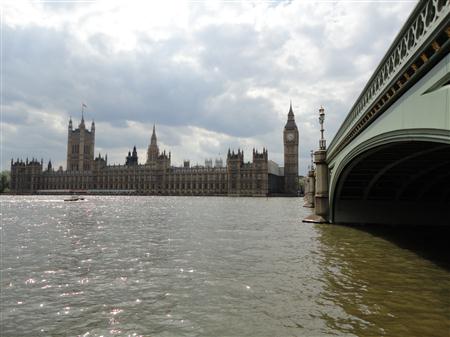 We also visited the underground bunker where Winston Churchill carried out his plans during WWII and saw London Bridge, which leads to the Tower of London.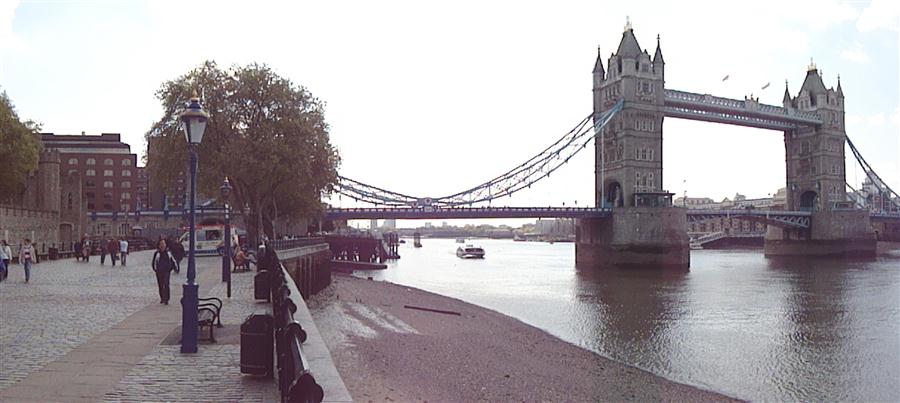 No visit to London is complete without a view of Buckingham Palace. We saw a marching band arrive to participate in the changing of the guard and took this picture along the way. We didn't realize the Thames is tidal, but you can see how low it gets in the photo.

Cambridge
Our first stop after London was the city of Cambridge, formed in 1209 after scholars left Oxford. There we learned that while you get a degree from prestigious Cambridge University, you actually attend one of 31 colleges in town (3 of which only accept women). You enter the town on a small bridge from which you can see the Mathematical Bridge over the river Cam, leading to Queens College. The small town has many stone college buildings, such as the one pictured below, but they were all closed to visitors due to exams.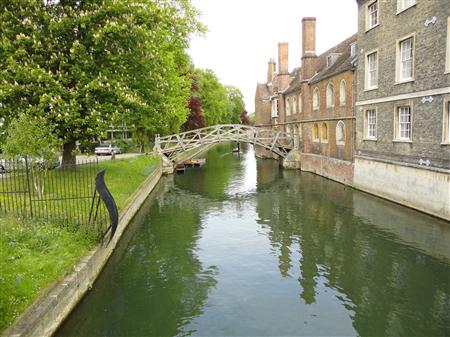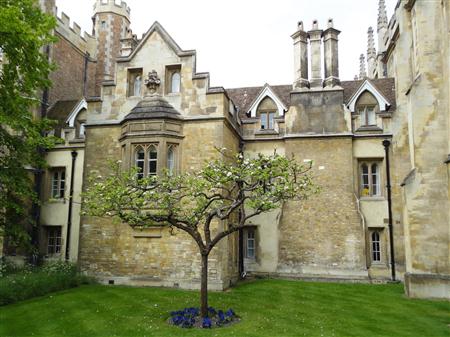 York
Our next stop was York. We first saw Clifford's Tower (part of York Castle), which was used for various purposes and rebuilt several times. But it is probably best known for the time in 1190 when the persecuted Jews in the city sought refuge there; and when it was determined they could not escape, they all committed suicide rather than renounce their faith. "The Shambles" (an obsolete term for meat market) is the famous narrow main street though the center of town, left pretty much the way it was during the fourteenth century, with its timber-framed buildings, two of which almost touch.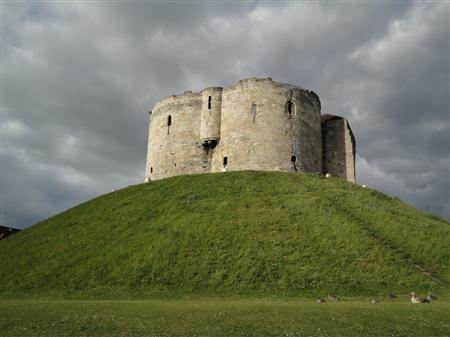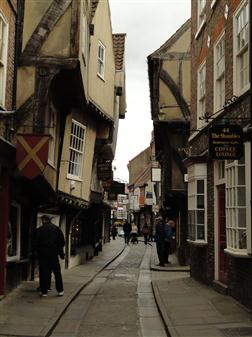 Edinburgh
On the way to Edinburgh we learned how the Romans who once occupied this area were so scared of a savage tribe called Picts living in the north of the island that they built a huge wall from one side to the other covering an amazing 75 miles. Built by Emperor Hadrian in AD 122, some sections were 9' thick. This is the longest surviving section of Hadrian's Wall, as over the years, farmers kept picking away at the wall to use its stones! The cement is the original cement, invented by the Romans.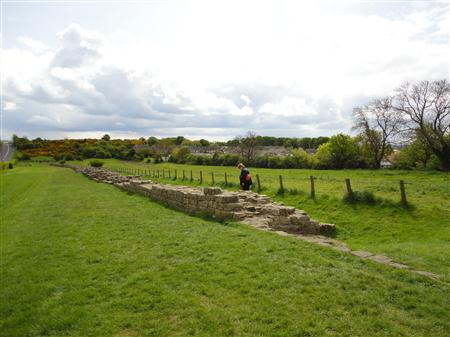 Edinburgh (pronounced Edinborough, or Edinbrə, if you are from the area) is perhaps best known for its castle, since you can't miss it! Edinburgh Castle sits high on rocks, with a marvelous view of the city, including the "other" side of the river, which they call New Town.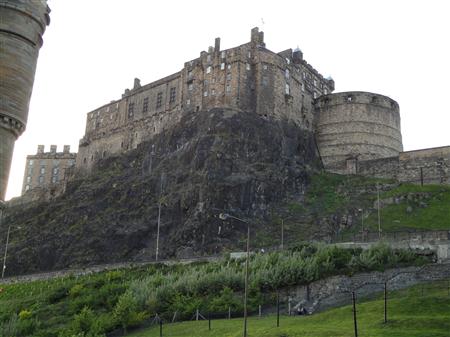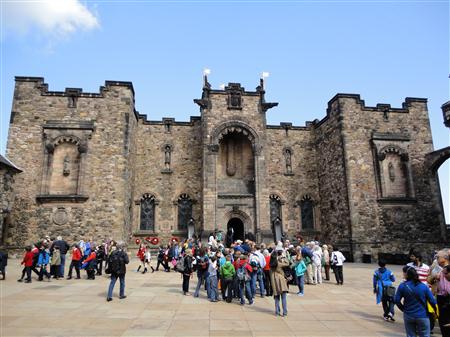 At one end of Edinburgh is Holyrood Palace, the official residence of the monarch in Scotland, where the Queen stays for one week each summer. St Giles Cathedral is in the center of town on Parliament Square, which is on a street known as the Royal Mile, since it leads to Holyrood.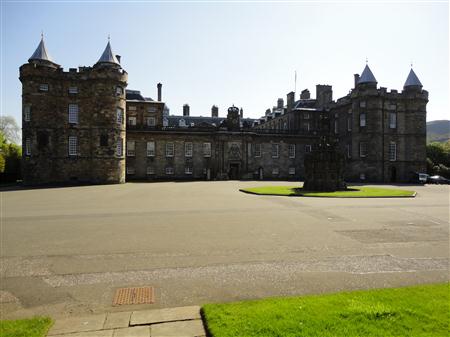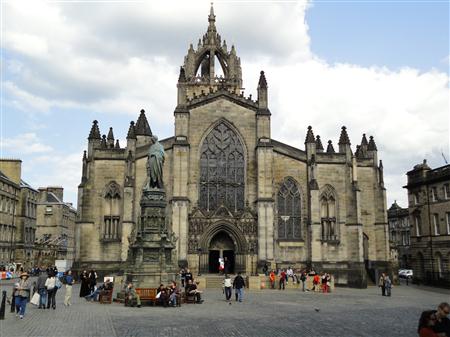 We also visited the Royal Yacht Britannia, built in 1953 and decommissioned in 1997 without replacement. It sailed on nearly 700 trips traveling over a million miles. Charles and Diana honeymooned on the ship in 1981, at which time a double bed was brought in, as the Queen and her husband slept in separate bedrooms in single beds! An audio tour is used on the self-guided tour. Interestingly, they gave Kathy a special version which includes physical guidance and greater description; and this service was available elsewhere, too. The ship's bridge and the banquet hall are shown below. Can you believe that the captain was sometimes required to change his clothes over 20 times a day, depending on what he was doing and who was present?!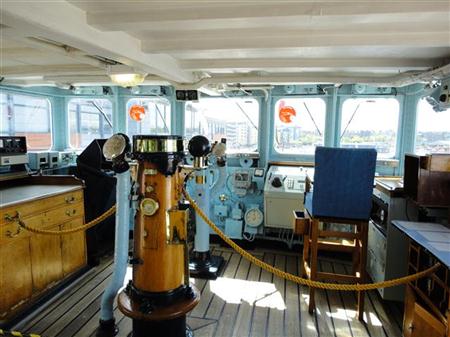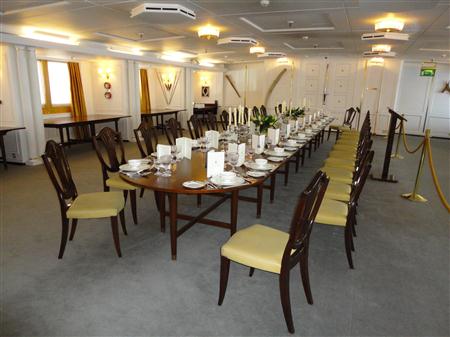 One of the interesting stories of Edinburgh is about a dog named Bobby whose master died after two years of ownership and was buried in a cemetery known as Greyfriars Kirkyard. The story goes that his devoted Bobby spent the remaining 14 years of his life sleeping on his master's grave, with townspeople looking after him. He died in 1872 and was buried nearby. Later a small statue was created in his honor and titled Greyfriar's Bobby. A plaque on Bobby's grave reads, "Let his loyalty and devotion be a lesson to us all." Finally, since we have a condo in Belhaven, NC, we couldn't resist being photographed on the Royal Mile in front of a sign for a local brewery!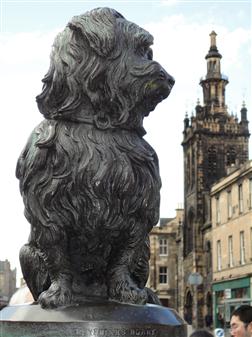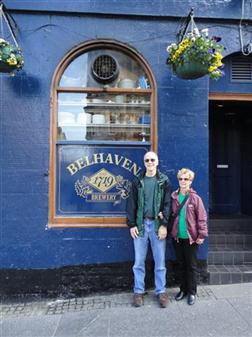 Wales
Our visit to Wales was a little disappointing, because our overnight stay was in Ruthin Castle, which sounds a lot more interesting than it was! Frankly, it wasn't much of a castle. We did enjoy a trip to the tiny village of Grasmere in the English Lake District upon departing Wales.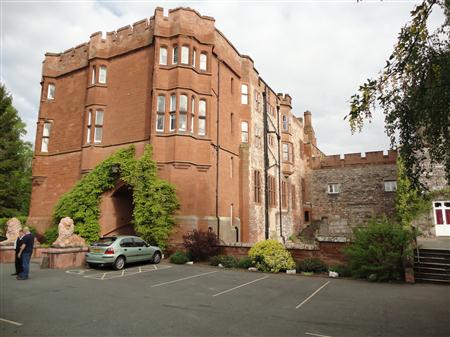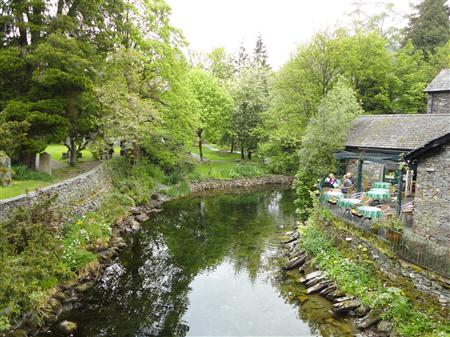 Departing Wales to return to the UK offered us scenic views of the countryside.

Stratford-Upon-Avon
On the way in to Stratford-Upon-Avon, we stopped at Anne Hathaway's Cottage. She was Shakespeare's wife, if you recall. The gardens of Anne's childhood home were beautiful, and when we exited the other side, an actor and actress in period costume were having a dialog pertinent to the time in which they represented. Note the thatched roof. And on the way into town, we saw another lovely house and yard with wisteria.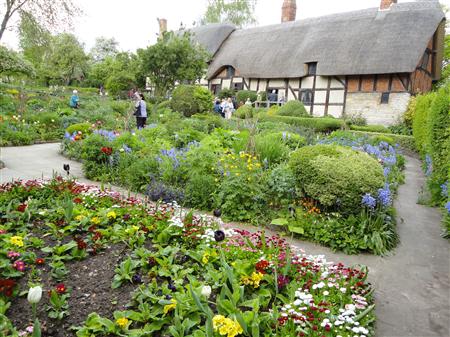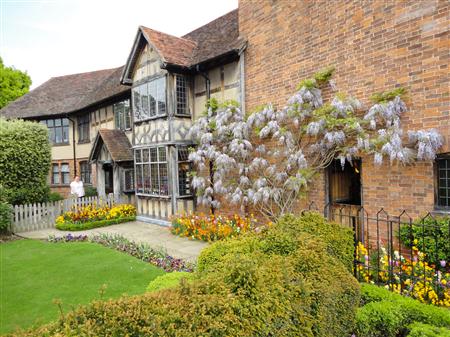 The sun sets very late in this area, and evening walks offer lovely lighting. These pictures were taken along the Avon river after 9pm.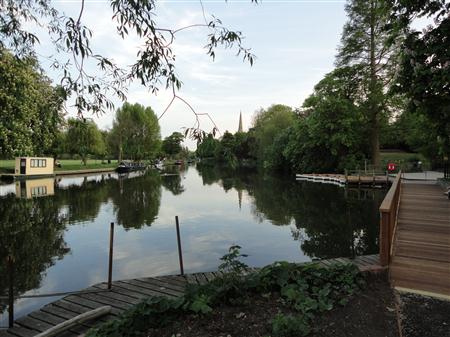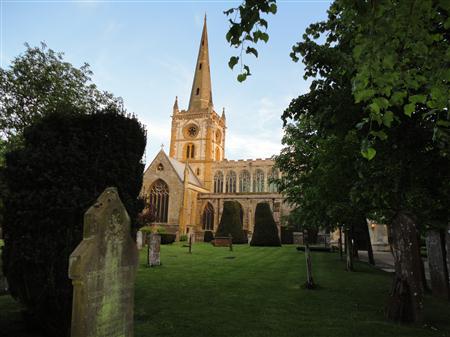 The town is a delight to walk in -- just the right size. It was Fred's favorite spot on the trip. We looked at the menus in the windows of all the restaurants and decided that the one right next to our hotel had the best variety. It was the best meal of the trip! Don't miss Edward Moon's in Stratford-Upon-Avon. (You can read Fred's review on Yelp.) And right up the street is an ancient building still used for the same purpose it was originally built for: elderly housing. (No, we didn't stay there! We stayed at the Falcon, which had rather odd assortment of rooms.)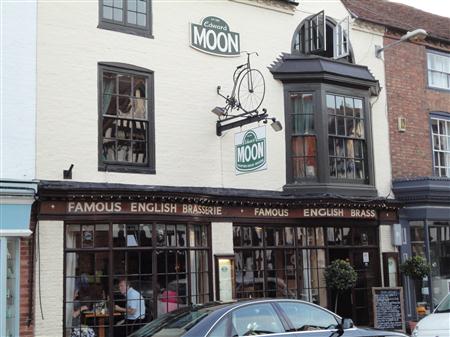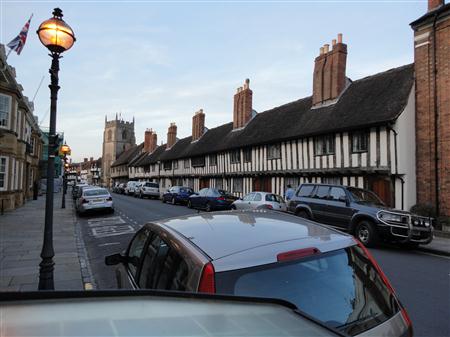 Bath
Our second day in Stratford-Upon-Avon we took a side trip to Bath. They have a nice river, but the key attraction is the reconstructed Roman Baths (sounds more interesting than it was, and it is a fairly elaborate "museum").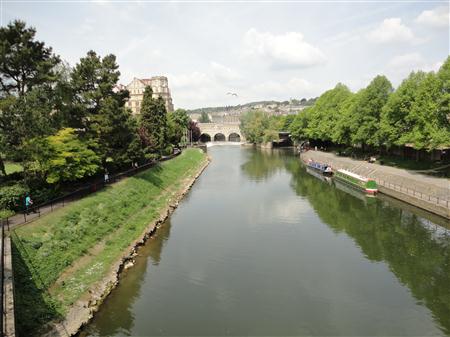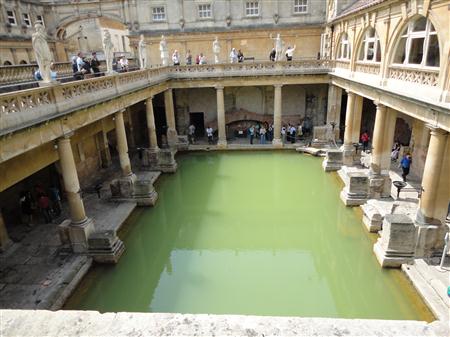 Stonehenge
Our last stop was the infamous Stonehenge -- those huge boulders placed in the middle of nowhere by some tribe of people for unknown reasons! It really is in the middle of nowhere, surrounded by fields. You can't go near the stones, but they have a nice audio headset system that you use as you walk around a large circular pathway, viewing the stones from various angles. I include the picture of the sheep in the field next door primarily to show the huge field of yellow rape, which we saw throughout our travels in the UK. Rape seed is used to make canola oil.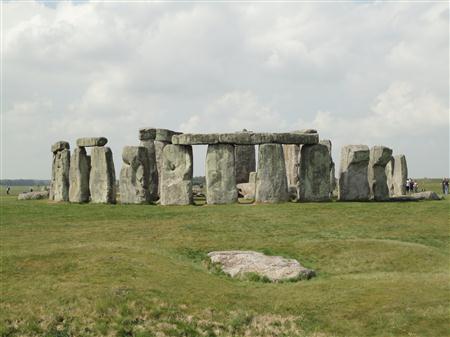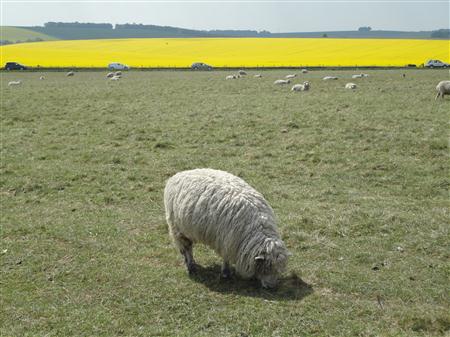 Summary
This was an excellent trip. Collette tour director Ted Furey (an American living in the UK most of the time) was excellent, a fountain of knowledge. Of course we needed more time in London (there's so much to see), and the Ruthin Castle was a disappointment; but we enjoyed everything else. Edinburgh would be worth a return trip (and Fred, at least, would like to return to Stratford-Upon-Avon).
---
If you enjoyed this page, perhaps you would like to see one of our other trips:
---