Fred and Kathy's Trip to Italy
April 2004
In celebration of our 30th wedding anniversary, we decided to tour Italy. Being our first trip there, we wanted to do the "full circuit" of major towns and areas to get a good overall feel for the country. Not speaking the language, we sought out a tour group. We certainly would have chosen last year's fabulous tour operator, Grand Circle Travel, if they had offered a full-country trip. We ended up choosing Collette Vacations which offered a 12-day tour ("Italian Vistas") covering five areas.
In summary, we enjoyed our trip (despite a fair amount of poor weather), got a good introduction to Italy (enough to decide we would return to Northern Italy someday), had some good wine and food, and had a decent though not outstanding experience with Collette (our tour director had some weaknesses and, surprisingly, he was Canadian, not Italian). All the hotels were good. One very positive comment re Collette: some of the guest guides used a "Whisper System," individual earphones we wore to pickup the guide's words, so you didn't have to be standing right next to him or her to hear.
Rome
We started out in Rome, where the highlight of that city for us was the Vatican Museum and the largest church in the world, St. Peter's. In fact, St. Peter's is so large that it has lines on the floor marking the relative sizes of its competitors! Everything is decorated in one form of art or another, very typical of the churches we saw throughout Italy. It is not possible to put into words the majesty of what we saw, and it boggles the mind trying to imagine workers building such a huge and magnificent edifice with primitive tools.
| | |
| --- | --- |
| | |
| St Peter's Square | Inside St Peter's Church |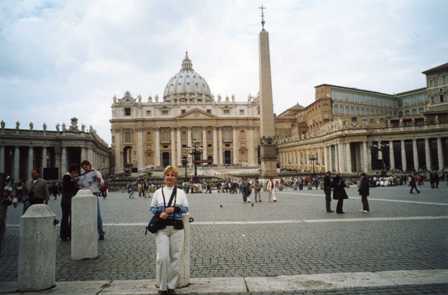 St Peter's Square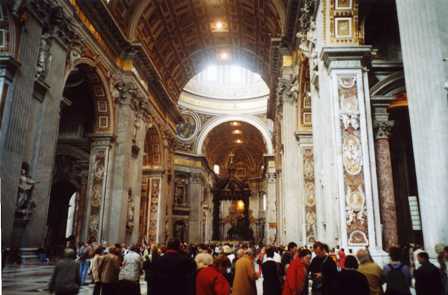 Inside St Peter's Church
The Vatican Museum is somewhat reminiscent of Versailles, as you go through room after room of art treasures, well worth your time. Ultimately, of course, you end up in the Sistine Chapel with its famous fresco painted by Michelangelo (no pictures allowed), featuring "The Creation of Adam" in the center (outstretched fingers almost touching). The ceiling fresco was much larger than we expected -- it was huge!
| | |
| --- | --- |
| | |
| Vatican Museum: Hall of Tapestries | Vatican Museum: The Laocoon Group |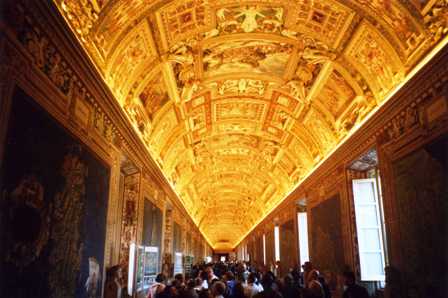 Vatican Museum: Hall of Tapestries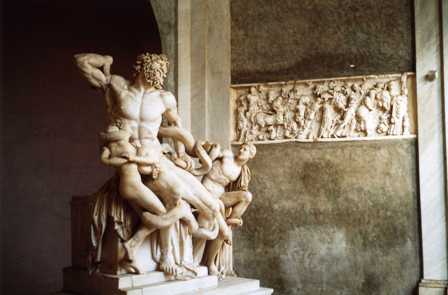 Vatican Museum: The Laocoon Group
Later we visited the Arch of Constantine and the Coliseum, where the Romans fed political prisoners (not "the Christians" as widely believed) to the lions, which were hoisted up into the arena from a laberynth of corridors below the floor of the arena. (We wondered how they rounded up the lions to put them back!) The arena was not as interesting as we had anticipated it would be.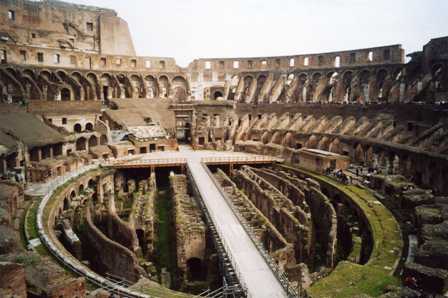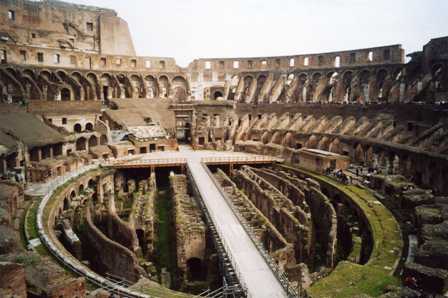 Inside the Coliseum (floor area excavated showing corridors for animals)
Additional spots in Rome included the famous Trevi Fountain, where Kathy threw in a coin (if you throw in three coins it means you want a new husband...) and the Spanish Steps (not so interesting to us, either). The traffic in Rome, complete with triple parked cars and a gazillion motor scooters weaving in and out of traffic, was depressing and annoying, and the graffiti was rampant.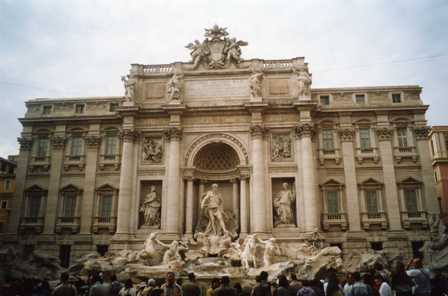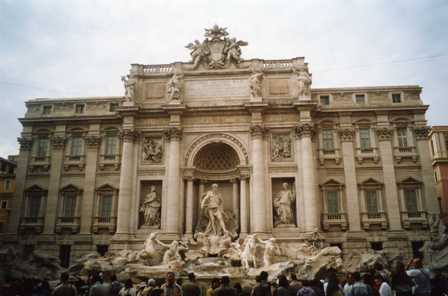 The Trevi Fountain
Southern Italy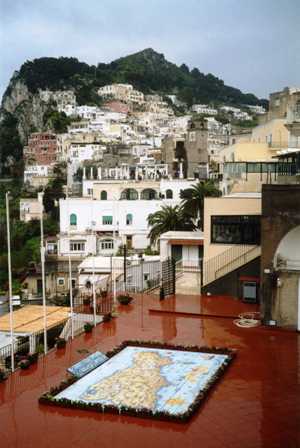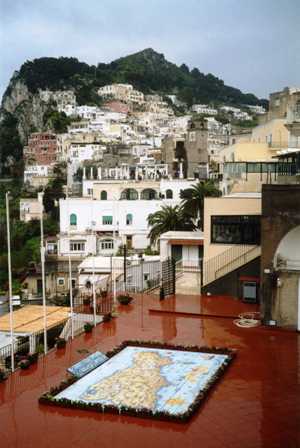 In Southern Italy, we stayed in Vietri Sul Mar, where we left our oceanfront window open at night to be lulled to sleep by the surf; but most of our travels were elsewhere by bus and boat: the Amalfi coast, Naples, Sorrento, the Isle of Capri (RIGHT), and Pompeii (BELOW). The weather was cloudy and rainy during this portion of the trip. Capri was interesting and would have been even more picturesque in fair weather. In Sorrento, we visited a very interesting factory where they make products out of inlaid wood -- beautiful, but expensive.
One of the discouraging aspects of our trip to Italy was the amount of graffiti on public and private buildings (but never monuments or churches). It is an "accepted artform" in Italy, partially rationalized by the fact that graffiti was found in Pompeii where it is still visible.
Don't look for lava in Pompeii: it died under a 25-foot high mountain of volcanic ash from Mount Vesuvius, not lava, in 79 A.D. They are still excavating. What is visible today gives an idea of life in those times, from the Commercial Center, dedicated to Venus, the narrow stone streets, the open courtyards in houses to collect rainwater in a cistern, the town bath and sauna, to the house of prostitution with its stone beds and erotic pictures still visible above the rooms!
Pictured: Cast made from space left in volcanic ash where a human died, crouching, plus other vessels and furniture found in the ash; and an overview of the area.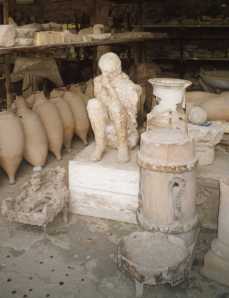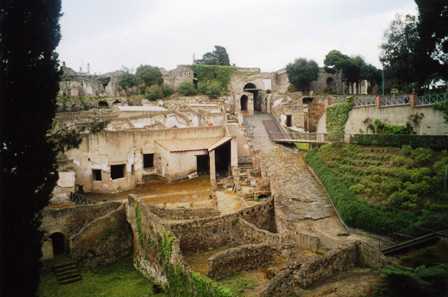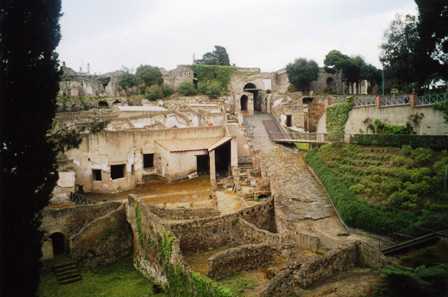 Florence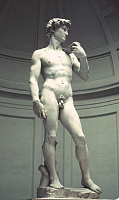 The longest drive for us was the trip from Southern Italy to Florence (Firenze in Italian). Along the way we stopped at a Cameo factory where Kathy picked up a Cameo ring. The difference in Florence was striking. While Rome had been a mass of traffic confusion and somewhat drab colors, Florence was neat and brightly colored, with reasonable traffic. This "cradle of Italian Renaissance" was a pleasure to visit, and we wish we had more time there.
A highlight of any trip to Florence is a visit to a building totally nondescript from the outside: the Academy Gallery, which houses Michelangelo's David -- the same David as in David and Goliath -- 16 feet tall, and started in 1501 when Michelangelo was only 26, taking 4 years to complete. The disproportionately large hands were immediately noticeable, Michelangelo's ploy to call our attention to the power in them. David carries his sling over his left shoulder. As we viewed other sculptures by Michelangelo, we learned that he never used models. His theory was that each block of marble contained a figure waiting to be freed, and that's what he did for a living. (No photography allowed in the Academy. This is someone else's photo.)
The churches in Florence are amazing works of art, decorated on every square inch inside and out. The picture on the LEFT shows the Cathedral (Duomo) of Santa Maria del Fiore (built starting in 1296) with level after level of sculpture; and you are only seeing a fraction of the entire building! Pictured below we see one of so many equally elaborate tombs within churches. This one is Galileo's, with Michelangelo's nearby, in Santa Croce (Holy Cross).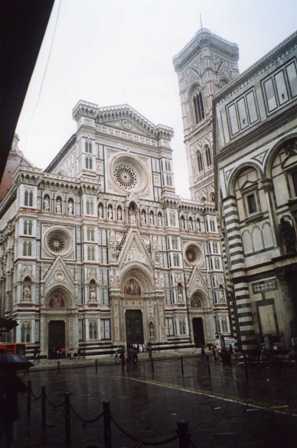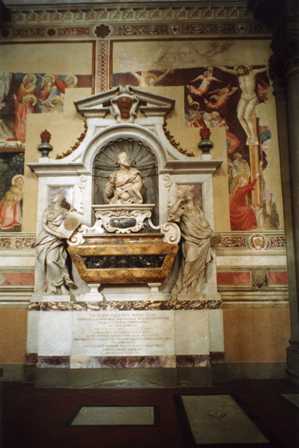 Below we see a famous statue called The Rape of the Sabine Women, housed in an open air structure called the Loggia of the Signoria, right on the square next to the Palace of the Signoria. Then we see the famous "Door of Paradise" (named by Michelangelo but created by Lorenzo Ghiberti over a period of 27 years). This is actually a reproduction of the door, outside at the Baptistry of St John the Baptist at the Piazza del Duomo. The gold leaf panels on the door shows stories from the Bible.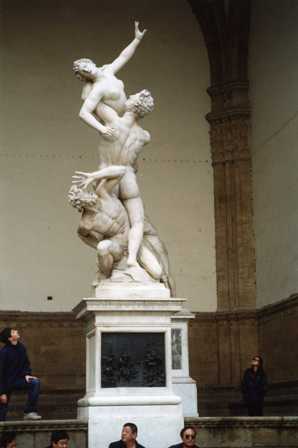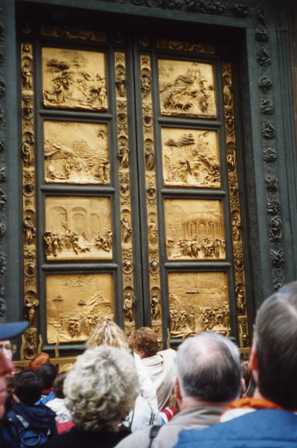 While in Florence, we visited Pisa (in pouring rain). Of course without its famous leaning tower (started in 1174 A.D., completed 99 years later), no one would stop here; but what we didn't realize is that the famous tower is adjacent to a magnificent cathedral and a baptistry (which is why I have selected a photo showing the tower in context). Collectively, they are known as the Piazza dei Miracoli, or Cathedral Square. Pictured: the Baptistry and The Tower of Pisa, with the Cathedral at its left.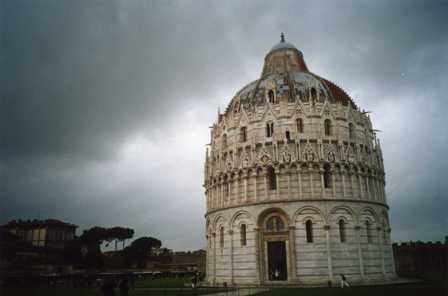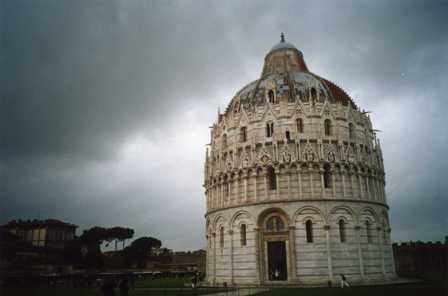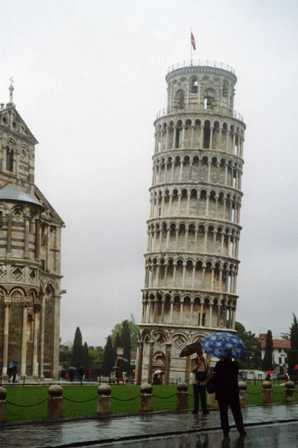 Venice
For as long as we remember, people have told us that Venice is dirty and disappointing, especially compared to Florence. We did NOT find this to be the case (though reportedly it does smell in summer!). We loved Venice: no automobiles, and all those canals. Pictured: The Rialto Bridge (one of 3 over the Grand Canal) near St Marks Square, and St Mark's Square, where our friend yelled "I love this woman!" and scattered all the pigeons (just like the commercial)...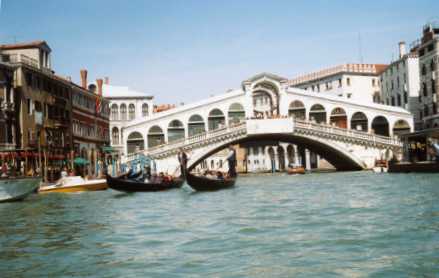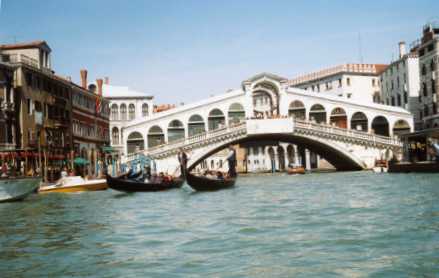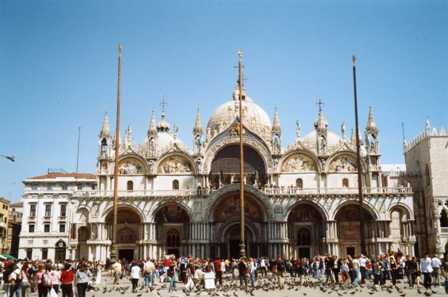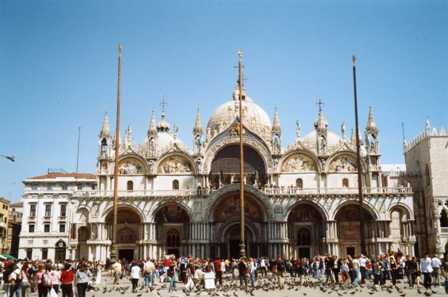 A highlight of our experience in Venice was the infamous gondola ride, arranged by our tour guide. Each gondola holds six people, but he hired two musicians (a singer and an accordion player) to accompany our group. I reminded him that we were on our anniversary, and we and our two traveling companions got the musicians in our gondola! What a treat.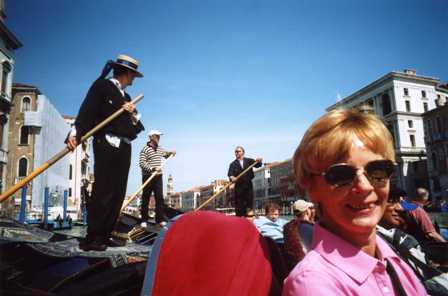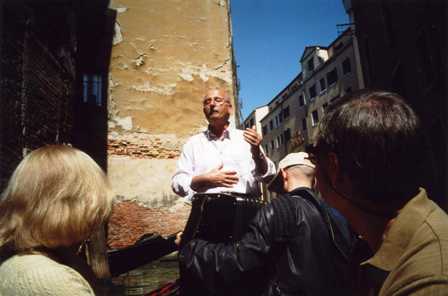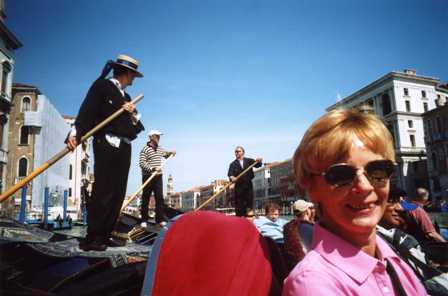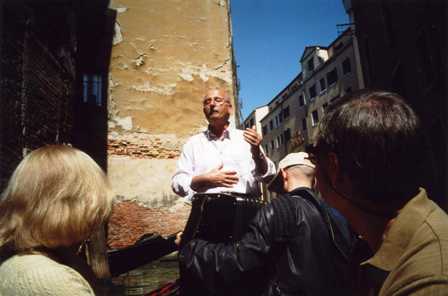 Another highlight of our Venice experience was a boat trip to Murano Island, famous for its Murano glass makers. We were fascinated as an elderly craftsman blew and shaped a glass vase, rolled it in colored glass fragments, and produced a magnificent specimen. Then he took a hunk of molten glass, pulled at it with a pair of what looked like needle nose pliers briefly, and a matter of a minute or two had produced a horse. Although both items had to go back to the oven to cure for 24 hours, we bought previously made versions to remember our experience, plus several other small items as gifts. (The bigger items got incredibly expensive, but they were dramatic: huge tropical fish, sting rays, tons of glassware, and an incredible glass woman with fetus inside.) Pictured: A Craftsman pulls the neck out on a Vase he has just blown and rolled in colored glass fragments, and The Vase, and a Horse we saw him form in less than 2 minutes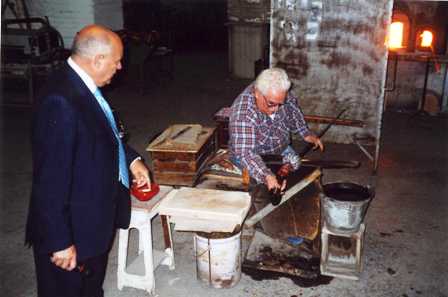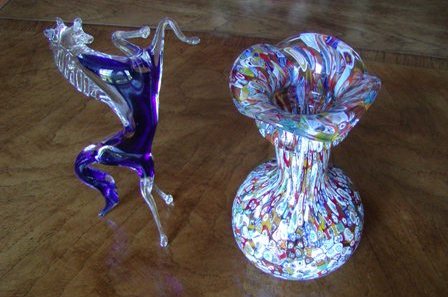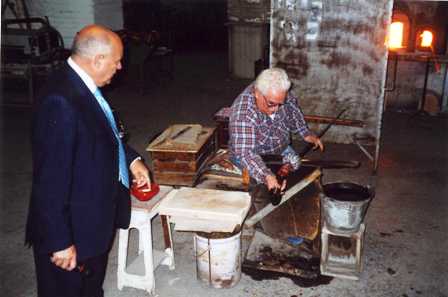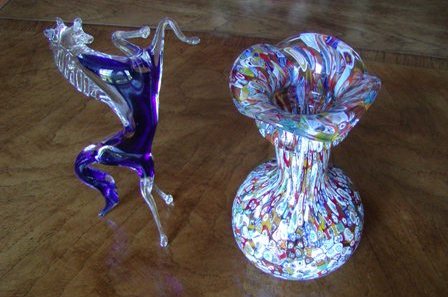 On the way from Florence to Stresa, we stopped in Verona, the home of Juliet's balcony (from Romeo and Juliet). The balcony isn't all that exciting, but the views around town were very nice. Pictured: The main square in Verona, and View across the river.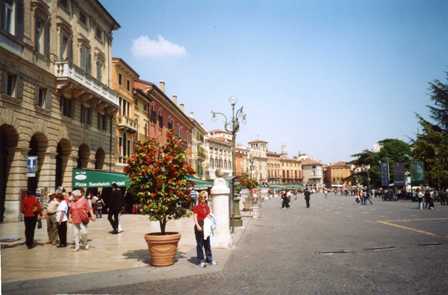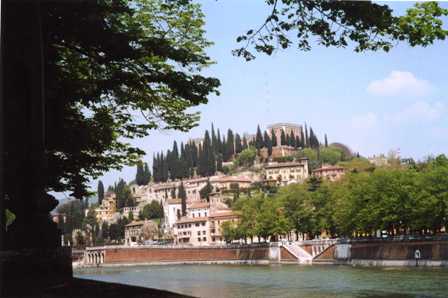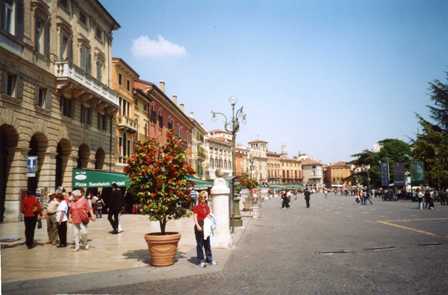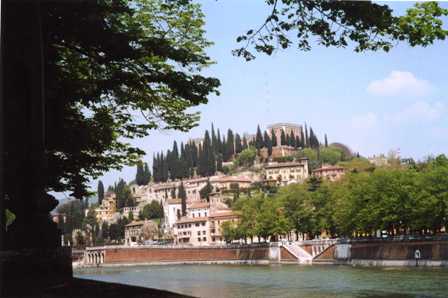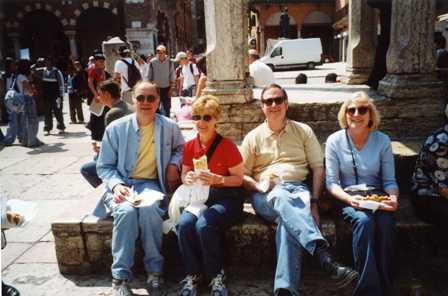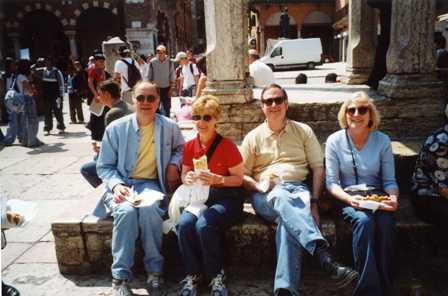 Eating Paninis with our friends in Verona
Stresa and Lugano
Leaving Venice we got a chance to visit the Ornella Molon Traverso Vineyard in Campodipietra del Salgareda in the province of Treviso. The winery is owned by the bus driver's cousin and is not part of the scheduled tour! After seeing so much city life, it was great to see a country estate, especially one full of wine! Kathy and I have never liked Pinot Grigio wine, feeling it is too bland. However, when we tasted their Pinot Grigio, it was immensely full of flavor. Unfortunately, the winery does not export to the USA, or we would have ordered a case. We ended up buying three bottles, plus three bottles of a very oakey cabernet sauvignon ... no fun hand-carrying to the USA, but we look forward to consuming them.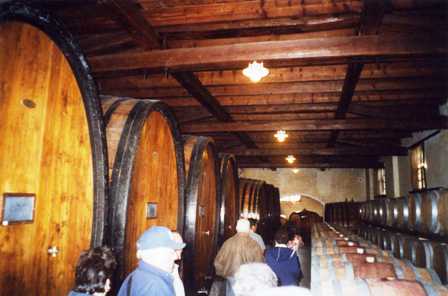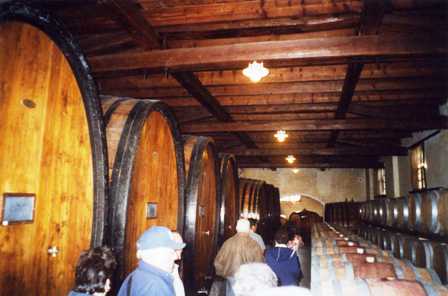 We ended our Italian journey in Stresa in the northern lakes region of Italy. We stayed in a magnificent hotel right on a lake and traveled north the next day for a shopping trip to Lugano, Switzerland, with much scenic beauty to be absorbed along the way. We boarded a boat in the evening and had our farewell dinner in a castle on Isola Bella, a nearby island. We departed the next morning for Milan and the US of A. Pictured: The Regina Palace Hotel, Stresa, and View from the Regina Palace.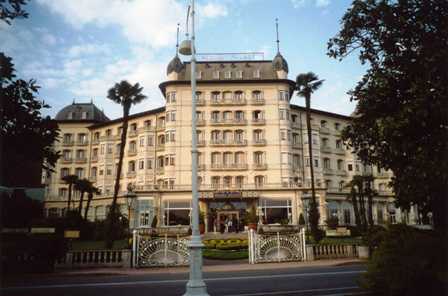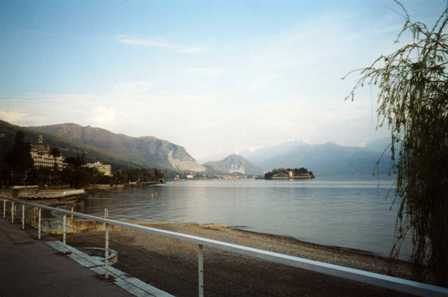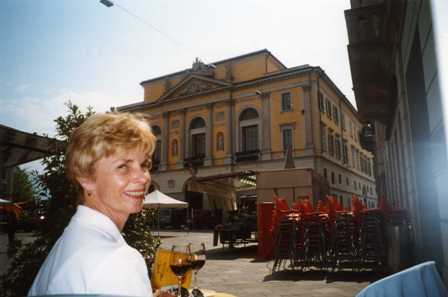 Time to go: a final lunch in Lugano at an outdoor cafe (with wine, of course!)
---
If you enjoyed this page, perhaps you would like to see one of our other trips:
---