Fred's iPhone and iPad Tips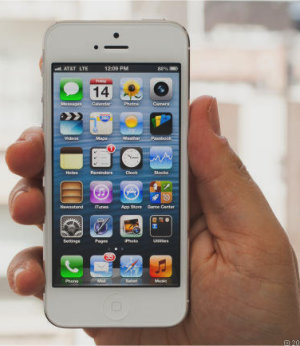 This is a compendium of tips on using the Apple iPhone and iPad that I have gleaned elsewhere or by personal experience. Remember, for tips that are new to you, it is best if you TRY THEM as you read this to help you learn/remember them. THIS PAGE IS NO LONGER BEING UPDATED ... but you will probably find some useful tips anyway!

New Pages:
Shortcuts
Press the Home button (the only button on the front of the iPhone) when you are on the second, third, etc., page of application icons and/or folders, and you will return to the first page. This is useful as you begin to fill up screens with application icons.
If you swipe down from the top, you will see a list of current and near future calendar events and other notices. Swipe in the opposite direction to close.
If you swipe up from the bottom, you will open the control center, from where you can can control numerous phone features, including such things as flashlight mode. Swipe in the opposite direction to close.
To enter Search mode, from where you can enter any term to search everywhere on your iPhone, put your finger anywhere except the very top of any application icon screen and swipe down. You can lookup contacts and calendar entries this way, for example.
If you are running in iPod mode (e.g., music playing) while the screen is locked, press the Home button to see what's playing and access controls like Pause / Skip / Volume.
Outside of lock mode, double-clicking brings up the task list, so you can switch applications. Just press the application image or its icon to switch to it. Flipping the application image upwards closes the application.
Tap the Status Bar (top of every page with the clock). This will scroll you to the top of whatever is showing on the page, especially helpful for long lists like Contacts or web pages.
Tap the space bar twice to insert a period followed by two spaces while entering text.
Hold down the shift key while typing to capitalize several letters in a row, like OK or IBM (or double-tap the shift key first).
Hold down the .com key in Safari, and you will find options for adding .net, .edu, and .org instead.
Hold down the period (.) key in Mail and you'll find the same options for adding .com, .edu, etc.
Hold down any key to see what additional options are available (like accented vowels). Certain consonants also have options: C, L, N, S, and Z. On the punctuation keyboard, some keys like period and hyphen also offer alternative characters. The $ offers alternative currencies.
Press the Sleep/Wake button (top of phone) or one of the volume buttons (left side of phone) to immediately silence the ringer. Press the Sleep/Wake button twice in succession to send a call to VoiceMail.
Sweep FOUR fingers upwards (on an iPad) to get to the task switcher, or sweep them sideways to actually switch apps.
Squeeze FIVE fingers together (on an iPad) to revert to the home screen.
Drag one or two more apps to the home screen dock (on an iPad), and optionally drag those already there out and replace them (both iPhone and iPad).
Create your own shortcuts: You can create your own shortcuts for longer phrases. For example, if I type fbid, it expands into my userid (fb being my initials and id self-explanatory...). You do this via Settings / General / Keyboard / Shortcuts. Want to see it in action? "omw" is precoded to expand to "On My Way!". When you type a shortcut, the shortcut definition is suggested as the substitution for the shortcut, so you have to enter a space or punctuation next to get it to expand automatically. If your phone has turned on capitalization for the next letter typed, then the first letter of the shortcut will be capitalized.
Tricks and Tips
Save an image from a web page by holding your finger on the image. After a few seconds, a dialog box comes up asking you if you want to Save or Copy the image.
Take a screen shot (an image of the current iPhone screen) by holding the Home button and briefly pressing the Sleep/Wake button. The image will be recorded under Photos, Camera Roll, from where you can email it or otherwise use it. (Example: the image to the right.)
Rearrange screen icons by pressing and holding one of them until all of them jiggle. Then drag and drop icons wherever you want them. Drag them off-screen to the right to get to additional pages. Press the Home key when done to stop all that jiggling!
Organize your Apps by placing them in folders, as shown to the right. This avoids having to scroll back and forth between screens, trying to find your App. Start by holding your finger on one icon until all the icons start jiggling; then drag one icon on top of another related icon (such as two news Apps). A folder will be created with an appropriate name (which you can change). Keep combining your Apps and drag the folders around in an order you like (mine are alphabetical). Wondering about the numbers in red? If an App in a folder has new items pending, that number is shown on the folder. For instance, the 6 on Entertainment probably means I have 6 notifications pending from Facebook.
Save a webpage as an icon. Open a webpage in Safari, click the Share button at the bottom of the screen (a box with an arrow out the top), scroll right if necessary, select Add to Home Screen. An icon of the page will be saved, and you can move it anywhere you want (like a WebPages folder?).
Siri is brilliant, but underused. For instance, you can ask Siri to create a list, add items to it, then read it back to you. Read this article for fantastic tips.
Create a Mobile directory under Favorites to store website addresses which offer data formatted to fit your iPhone screen.
Find free WIFI spots for your iPhone while traveling at iphone.jiwire.com. (Suggestion: go there now from your iPhone Safari browser and save it as a Favorite under Mobile.) There are also several apps in the iTunes store for this.
Zoom in on some text by holding your finger on it. This is especially helpful if you want to place the cursor somewhere to delete or edit it. After the zoom takes place and the text is enlarged in a small circle, you may move the position of the cursor by dragging your finger left or right. (See the image to the right for an example.)
Copy, Cut, and Paste: double-tap a word and it gets selected and offers you the opportunity to Copy, Select All (the whole area), or Define (dictionary). By dragging the blue dots, you can expand or narrow the area to be processed before tapping on which of the three options you wish to exercise. Tap once elsewhere to make the options go away. In Safari, you can't double-tap: just hold your finger in the general area you wish to manipulate, and when you let go, the Copy and Define options will appear.
Sort your Phone Favorites list by tapping Favorites, then Edit, then drag the triple-bar symbol to the right of each contact to a new place in the list, then tap Done. This works in numerous applications.
Create your own ringtones. See the separate tip below.
If you want to change the order in which photos are displayed, you'll need to create iDevice Photo Albums, which are actually pointers to existing photos, but you can move the pointers around. The albums look just like regular albums, but you control the order. Read my iPhone Photo Album Tips to learn how.
Do you like emoticons?

J

You can add them (in color) to your text messages to other iPhone (only) users via the Emoji keyboard option. To add this feature, go to Settings, General, Keyboard, Keyboards, and select Add New Keyboard; then choose the Emoji keyboard. Now a symbol of the world will appear in the bottom row whenever the keyboard pops up. Press it and you will switch to the Emoji keyboard with dozens of options for symbols. Press it again to return to your regular keyboard. CAUTION: Only iPhone users will be able to see your Emoji symbols -- other users will get a blank. And in case you haven't figured it out by now, this is how you would add keyboards for other languages you may know!
Take 15 minutes to explore ALL the options available in Settings.
Applications
One of the great things about the iPhone is the number of FREE applications you can easily add to it. (There are also some fee applications to choose from, but so many great ones are free.) To find applications to add, simply tap the App Store icon. Here are my favorites:
DropBox: This is a must-have application to allow you to share files between computers (e.g., your desktop and your iPhone, or home and work). Many other iPhone/iPad applications also support DropBox internally.
Pandora: Wow, this is great! Enter any artist or song you like, and Pandora will play it and similar music for hours. Or enter a genre you like (such as Pop, Jazz, or New Age). The selections are fantastic. With iOS7, Apple added its own version of this: iTunes Radio.
Shazam: Listens to any music playing nearby and tells you the name of the song and artist.
SoundHound: An alternative to Shazam that is fast(er) and seems to give more information, but may limit the number of times per day you can use it.
Red Laser: scans barcodes and tells you what competitors charge for the same item; well worth the fee. Also scans "tags" (like QR codes) and redirects you.
Wikipanion: If you know what Wikipedia is, this is the iPhone interface. Tons of information and answers at your fingertips.
Google Earth: It is absolutely amazing to watch Google Earth zoom in on your location with satellite photos!
Ruler: only good for up to 3", but you never know when you'll need to measure something while you're out! What the heck, it's free! There is also a level tool (iHandy Level), although this feature is now included (one might say buried) in the standard Compass app.
Yelp: Finds Restaurants, Bars, Coffee Shops, Banks, Gas Stations, and Drugstores nearby to wherever you are. Even gives you ratings, relative cost, and reviews, and lets you refine search characteristics. UrbanSpoon is similar.
Translator: Translates words from one language to another. There are several similar applications.
Unit: Converts one unit into another in many categories, like Currency, Temperature, Length, Weight, etc. There are numerous similar applications.
WootWatch: This may be your introduction to Woot.com, where you'll find some amazing one-day bargains from their multiple sites. iYugster is a similar service.
There are many news applications. I like Newsy, which offers both video and a transcript. FlipBoard and Zite are also good.
Track the weather with TWC (The Weather Channel) and My Radar.
ShopShop: This is a wonderful application for keeping your shopping list with you at all times. And it can be setup to sync automatically between multiple i-devices (e.g., iPhone and iPad). And you can maintain multiple shopping lists (e.g., grocery store, hardware store, etc.).
CardStar: This app allows you to keep track of all your shopper loyalty cards, insurance cards, etc.; and in many cases, a merchant can scan the image on your phone.
iPad Considerations
If an app says HD in the name, it supports the iPad, taking advantage of the large screen size. HD is optional -- many apps support both iPhone and iPad, but sometimes you have to download a separate version of each app for each device.
If the App does not specifically support the iPad, you can click the 2X button which will be displayed with the App to get it to fill the screen better; however, it will not respond to rotation.
Most PCs don't have the power available in the USB port to charge an iPad, so don't expect the unit to charge during or after Sync; you'll need to use the separate AC power supply which comes with the iPad.
There are some terrific iPad apps which expand upon their iPhone counterparts or surpass them. Look for the HD version of The Weather Channel; Newsy; and Bloomberg for stocks. There's even an HD Calculator with many more options.
iPad-Unique Tips:

Using the keyboard, sweeping your finger upwards from the COMMA key inserts an APOSTROPHE; sweeping upwards from the PERIOD inserts a DOUBLE-QUOTE.
The "dock" (the area at the bottom of the screen) actually holds SIX apps, not just the four you find there initially. Feel free to drag two more apps to the dock. (Press and hold the app until it starts jiggling, then drag it.)
Resources
---