Summary
Fred retired from IBM after 31 years, then ran a small Internet-based business from home from 2003-2015: Bracksco Wine Nook, featuring VintageView Wine Racks and Personalized Wine Accessories. He closed the business July 1, 2015, but he now offers his services as a Professional VoiceOver Artist.
In February 2011, Kathy, along with her Seeing Eye dog Wilda, retired from her job as Director of the Client Assistance Program for the State of NC. Her former Seeing Eye dog Rozen had retired the previous year and lived with us until June 2014. Son Dan is a pharmaceutical rep in Raleigh for Novo Nordisk and married (nurse) Reneé Denbow in March 2014. They gave us an early Christmas present in November 2015: our first grandchild, Blakely (photo mid 2017). Another grandchild, Hayden (photo mid 2017), was born Christmas Eve 2016. Daughter Michelle is a nurse in the (cardiac) Cath Lab at Rex hospital, following five years at Durham Regional Hospital. Both Michelle and Dan bought their own homes early in 2011.
Fred maintains websites for The Audio Description Project (for which he received an award in July 2016); the Needham High School Class of 1964; and for members of Brown University's WBRU in the 1960s. He continues in his role as an audio describer (since 1999) for Arts Access, and he records a weekly program for the Triangle Radio Reading Service (since 1999), where he also consults on the website. He was previously on the board of both organizations.
We moved into our custom designed new home in 2001. In 2007, Fred added a long-awaited Network Music Player (SqueezeBox), which allows him to play all his now-digitized CDs and new online music purchases over the whole house audio system. We also own a condo on the Intracoastal Waterway in Belhaven, NC.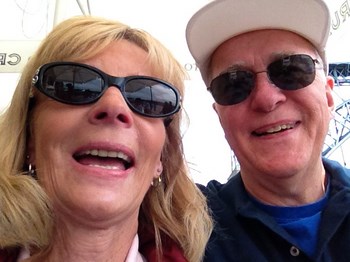 Shortcuts to My Pages and Info
Click on any highlighted link above or anywhere in these pages to learn more about a subject